Spring scenery had ended and May comes. On a breezy summer night, everyone has a desire to drink a cup of overwhelming flavor wine and experience refreshing and relaxing coolness. Although at this moment we couldn't visit charm and mysteriousness of French wineries, you can follow me to visit Champlus Wine Club (Central Store) in Beijing. Enjoy the tipsy and pleasant feeling that the chemical reaction between lighting and wine brought about under LTECH L-BUS Lighting Control System.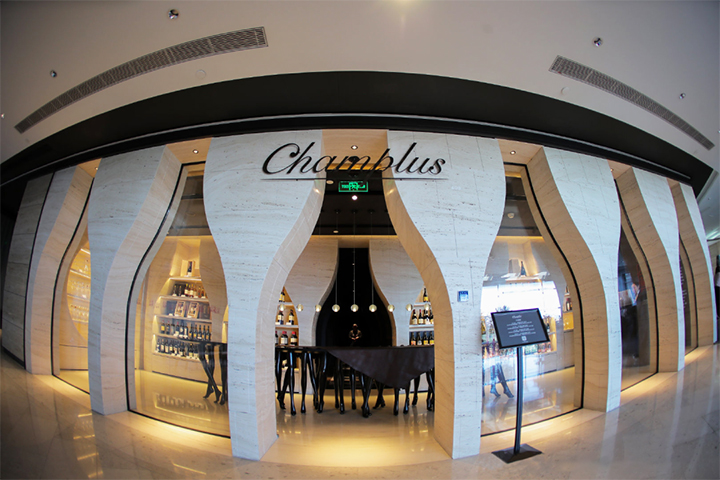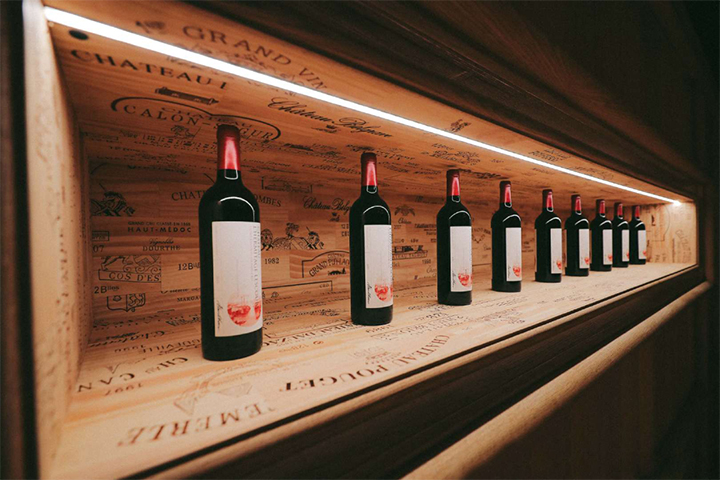 CHAMPLUS WINE CLUB
CHAMPLUS WINE CLUB commits to bringing the most representative and typical boutique wine from the most characteristic wine region to guests. Elegant and high-quality life is with high-quality LTECH products here in CHAMPLUS WINE CLUB.
LTECH L-BUS Lighting Control System transformed different types of lighting control modes into a single control mode through wireless RF signals. Matching with multiple signal converters, it realized that WiFi transformed into multiple signal systems to meet the requirements of six regions of Champlus Wine Club for different scenes, luminaires and control types. It precisely controlled each beam of light to create a different but immersive atmosphere for different scenes.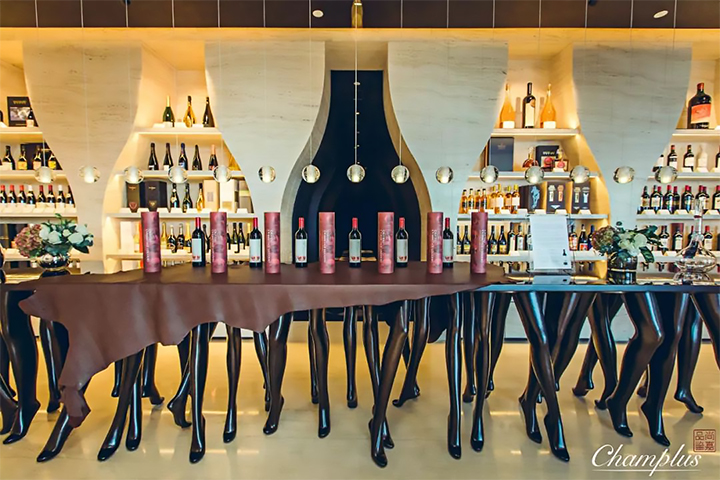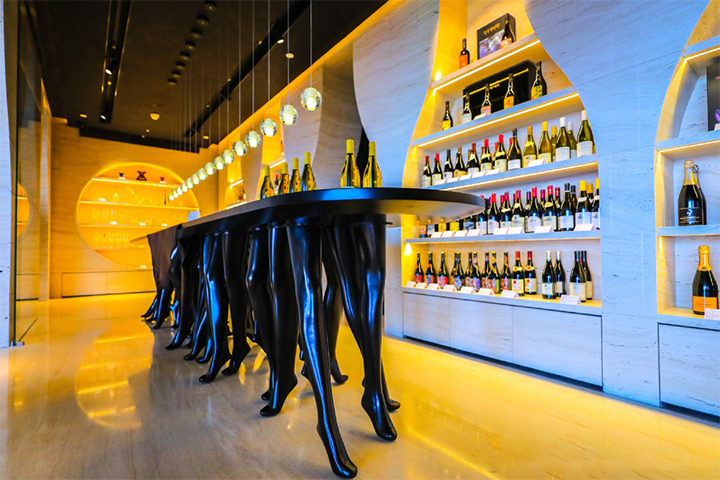 Amour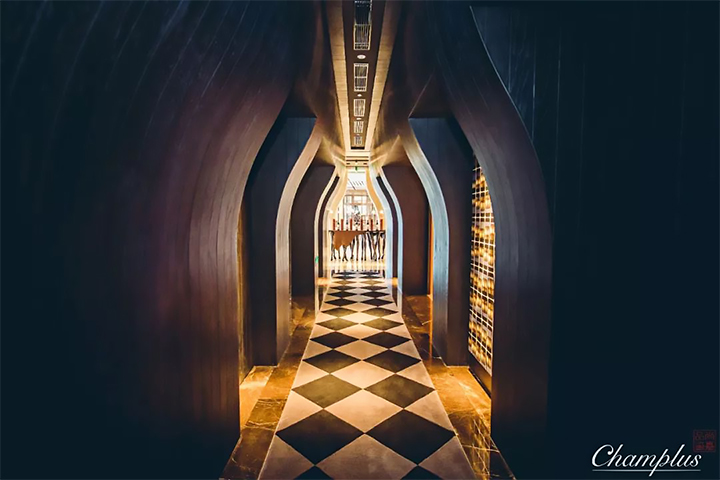 Galerie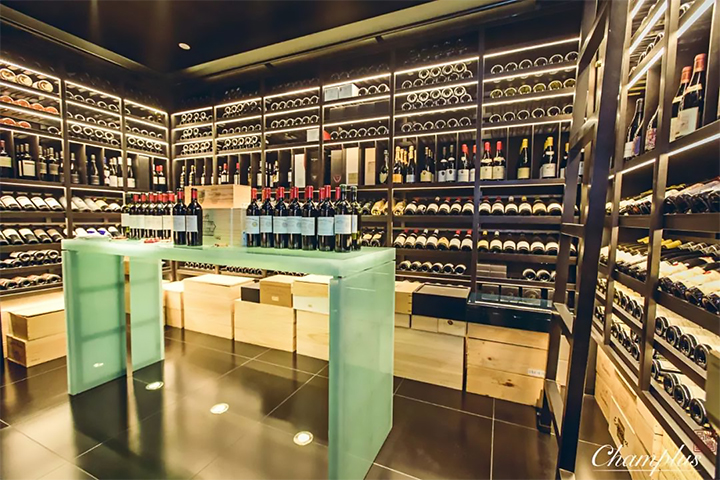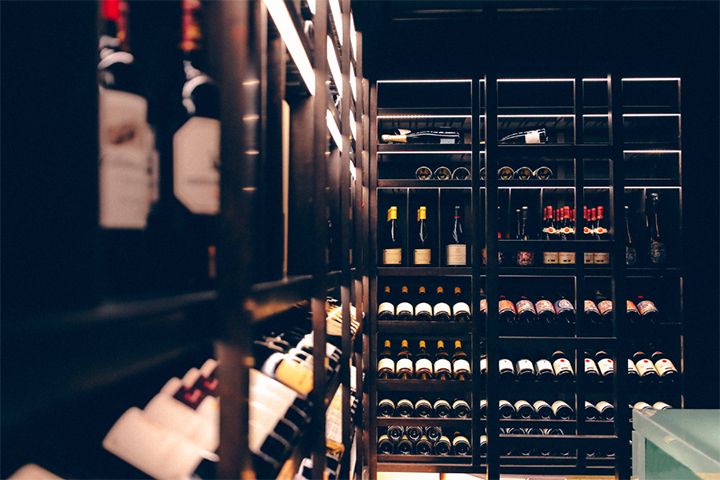 Du Vin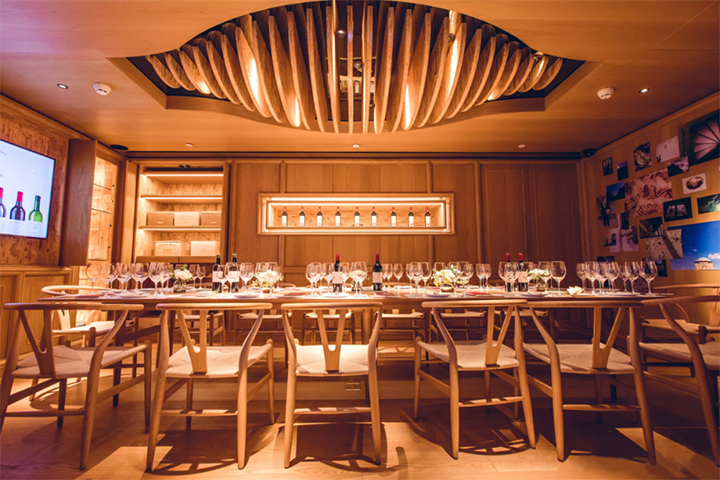 Santé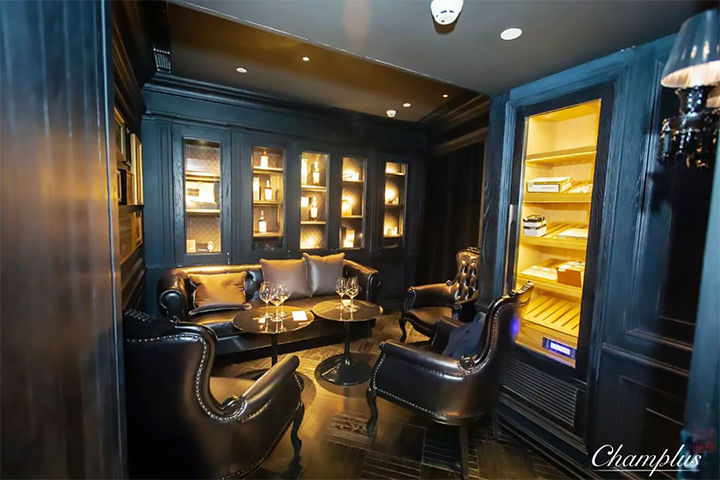 Fumée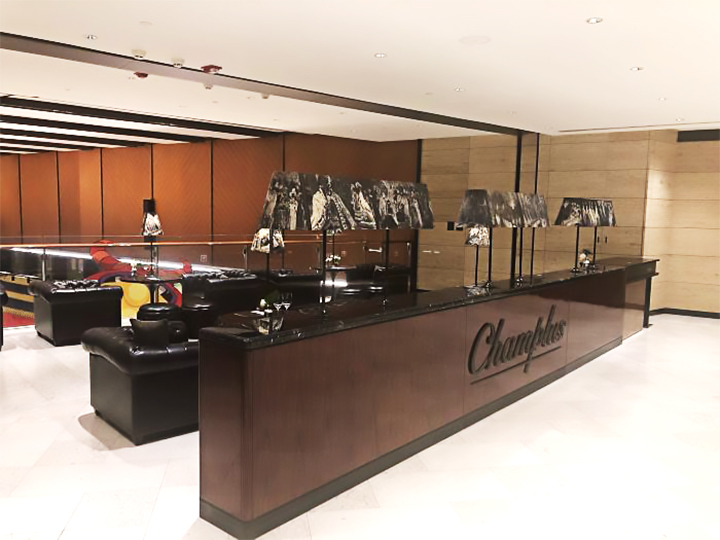 Jardin
L-BUS Lighting Control System
• Super Brain: WiFi-108
WiFi-108 controller is the core gateway of LTECH L-BUS Lighting Control System. A WiFi-108 controller can realize control of Dim, CT, RGB, RGBW, RGBWY and traditional luminaires of multiple regions and groups. Its dimming color is fine, homogeneous and smooth which satisfies customers' specific pursuits of lighting. (Learn more about WiFi-108 , click the picture below. )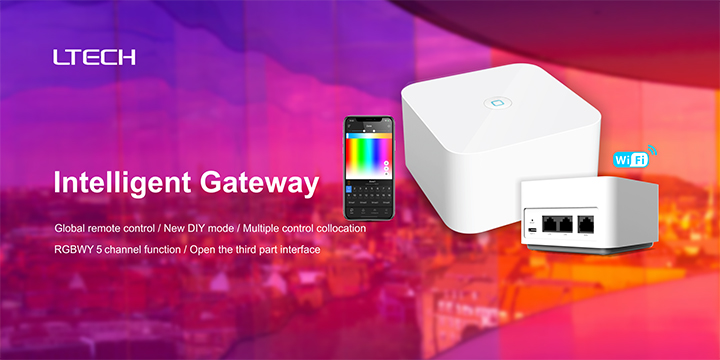 Intelligent Gateway
• Multiple Control Modes:
LTECH L-BUS Lighting Control System supports multiple control modes, such as WiFi / remote controllers / panels / sensors, making lighting control more intelligent and humanized. It is suitable for multiple signal dimming modes, such as touching-type, rotated dimming type and range-based touching control types. Through mobile devices, such as mobile phones and tablet PCs, LED lighting products can be remotely controlled by WiFi function.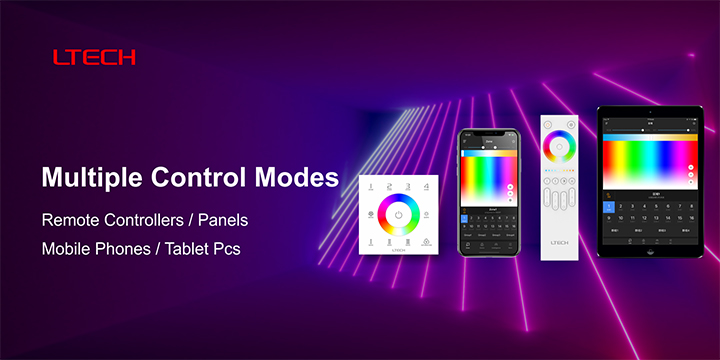 Multiple Control Modes
• Wireless Connection Stable and Efficient:
LTECH L-BUS Lighting Control System integrates WiFi signals and RF signals and it effectively reduces interference which by means of wireless converters can be matched with DMX, Phase cut, 0-10V signal dimmable drivers. In early period, there is no need to wire and it is convenient for construction.And the design can be adjusted according to local conditions latter. High-speed and stable transmission signals bring seeming like wired operation experiences for projects.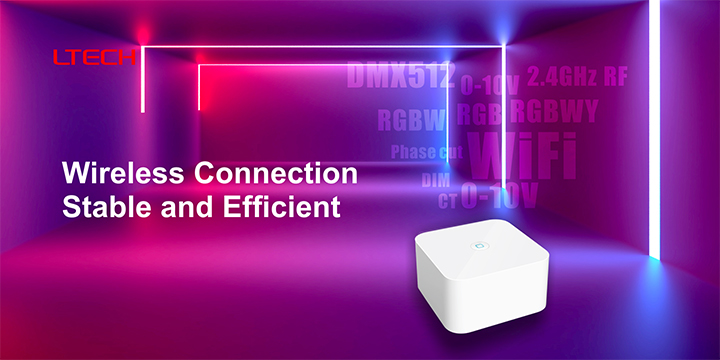 Wireless Connection Stable and Efficient
• Customized Scene Mode
LTECH L-BUS Lighting Control System is capable of customizing a variety of scene modes and setting exclusive scenes whenever you like, which enable engineering lighting to be more rich and observable.(Click the picture below for more lighting scenes and effects. )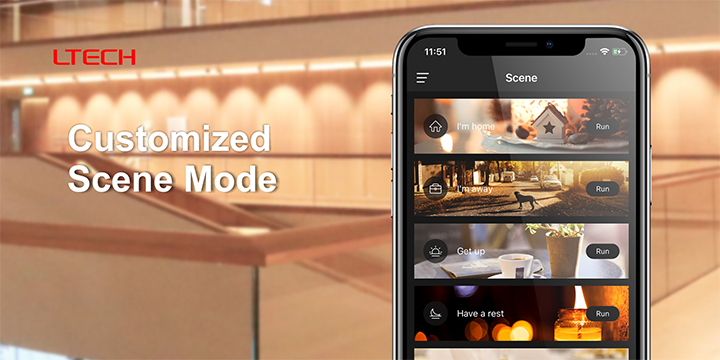 Customized Scene Mode
• Timing Mode
The timing function of LTECH L-BUS Lighting Control System is able to set specific time for specific instructions in accordance with requirements, and to be used with scene modes for lighting regulation.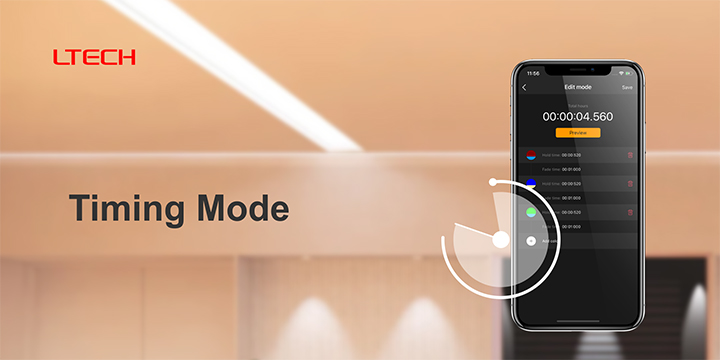 Timing Mode
• Relay Function
LTECH L-BUS Lighting Control System can be equipped with relay products to realize long-distance transmission. According to the field test, can control a region of space within 5000 ㎡ under the full wireless condition. And if under the wireless and wired condition, it can control a larger region of space and easily solve problems of site complexity and wide space in projects.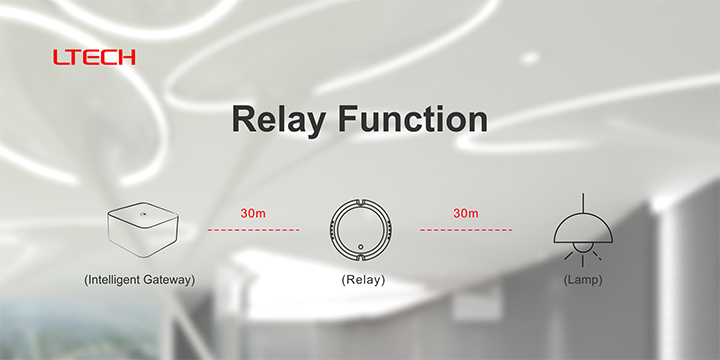 Relay Function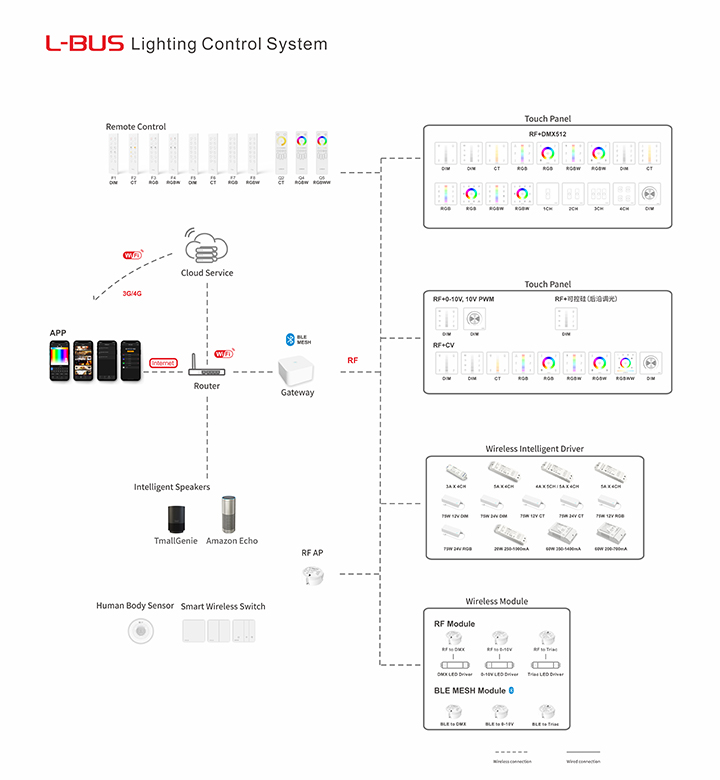 System diagram
Einstein said: " Imagination is more important than knowledge". Because knowledge is limited, yet imagination generalizes everything in the world that promotes progress and is the source of knowledge evolution. LTECH not only has the dream of improving lighting environments for human beings, but also has the hard power to turn the dream into reality by combining the existing leading technology . LTECH shows the charm of lighting with its heart and creates the value of lighting.