In the golden autumn of 2023, as couples of new products of Huawei Mate Series came out, Huawei's largest flagship store in North China also grandly opened, which is located on Jinjie Street (also Binjiang Road), a prosperous business district in Tianjin. In this historical and cultural block, a vibrant urban living room is created. Intelligent lighting is used to embellish this century-old building where this living room is located.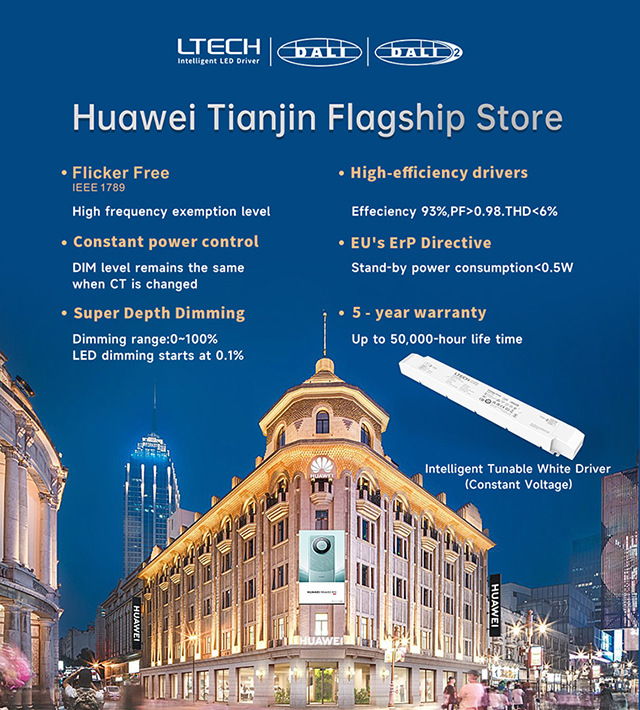 Official Promotional Video of Huawei Tianjin Flagship Store
Contrast of cultural and
technological lighting
Jinjie Street (Binjiang Road) is known as one of the origins of Tianjin's commerce, marking the prosperous development history of Tianjin's commercial streets. The largest Huawei flagship store in North China, covering an area of 2,700 square meters, is the predecessor of Tianjin's famous transportation hotel. The bright illumination of flagship store and the street with a story behind present a striking contrast. The store lighting via LTECH intelligent LED drivers contributes to creating delicate, high-quality commercial lighting environment.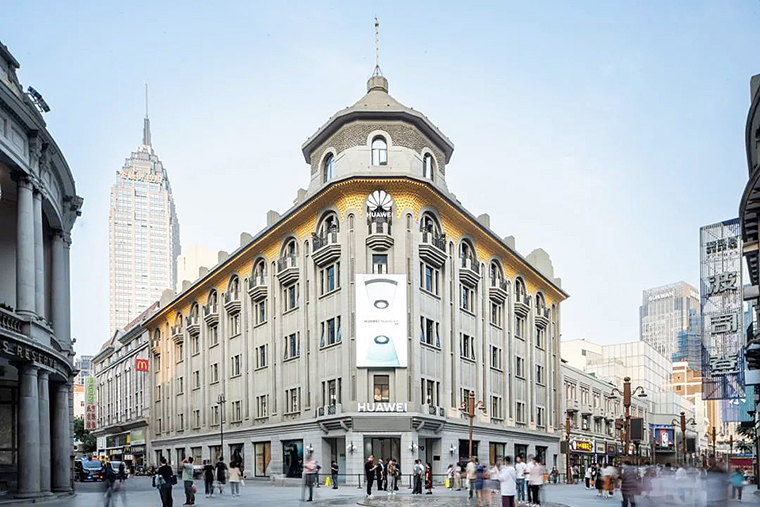 LTECH has created lighting solutions for Huawei flagship stores in multiple cities. Each flagship store combines the city's cultural environment to create its store image and design. And lighting here plays an essential part to create an unique store.
Huawei Shanghai Flagship Store
Click to view details:Huawei Shanghai Flagship Store ( Largest Global Flagship Store)
Huawei Qingdao Flagship Store
Click to view details:Huawei Qingdao Flagship Store
Huawei Intelligent Life Hall
Click to view details:Huawei Intelligent Life Hall
Shenzhen Bantian Huawei 5G Base
Click to view details:Shenzhen Bantian Huawei 5G Base
Founded in 2003, LTECH has dived deep into the intelligent lighting industry for 20 years and has greatly promoted the development of the field of intelligent LED lighting control in China. We were listed in A-share market in 2022 and become the first listed intelligent LED driver company. We always keep innovating in the intelligent lighting filed and our products are widely used in commercial spaces, homes, show stages, schools, hospitals, etc. We have created tens of thousands of medium- and large-sized lighting projects. We will continue to provide one-stop intelligent lighting control solutions for our global customers.
Highlighted lighting
for different business areas in store
Huawei flagship stores have always value immersive customers in-store experience. In addition to displaying multiple series products such as smart phones and smart devices, Huawei Tianjin flagship store has also set car zone, children zone, audio and video zone, whole-house intelligence zone, etc. The lighting environment will affect the display and experience of different spaces. In this project, LTECH intelligent DALI drivers are used to adjust the light and color temperature to create a high-quality atmosphere for visiting the store.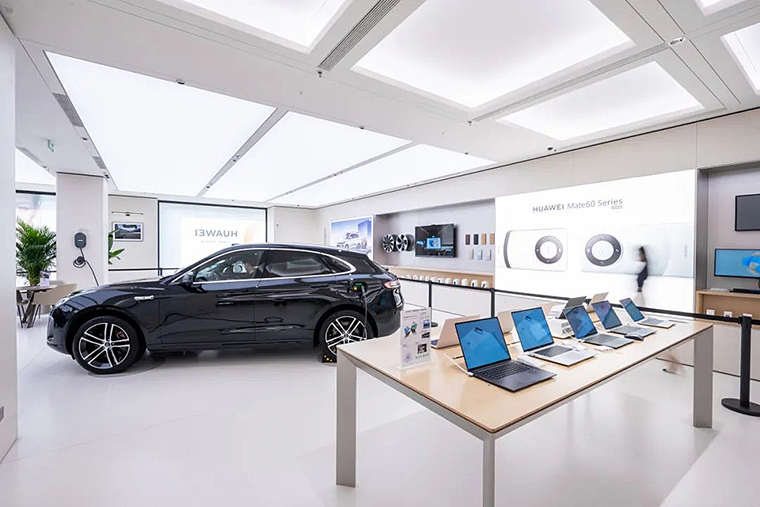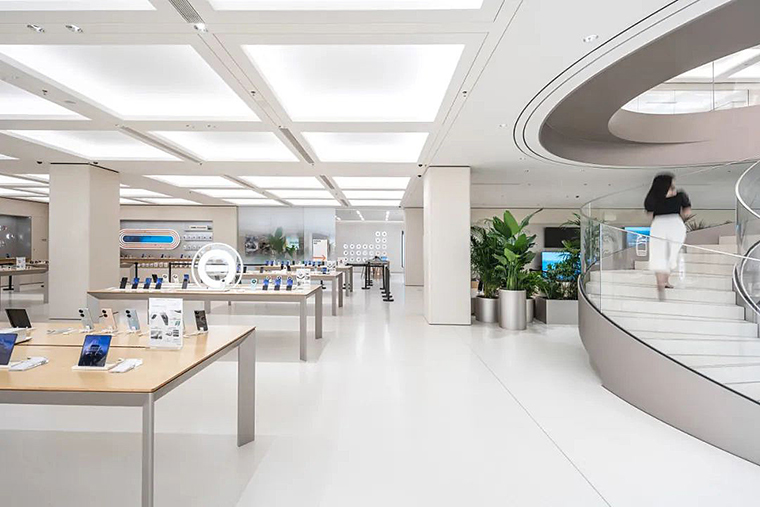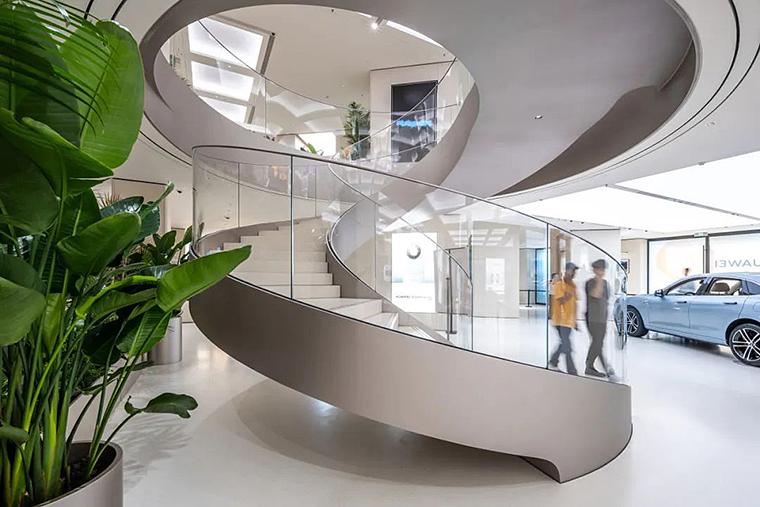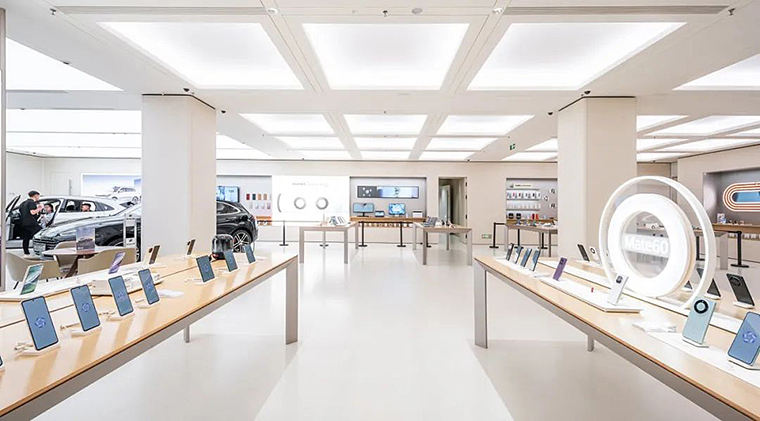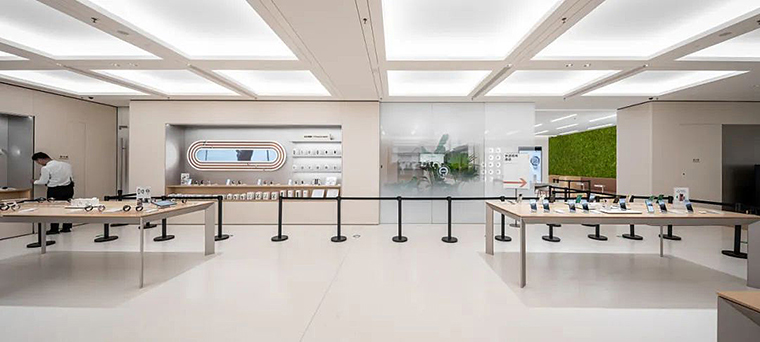 LTECH DALI intelligent drivers enable 0.01% dimming depth, making it the first domestic DALI driver brand to achieve this dimming depth. The smooth, delicate and flicker-free dimming complies with IEEE1789 standard and reaches high-frequency exemption level.For the product display areas in the store, we create flicker-free lighting that adapts to different frame rates, aperture, focal length and other settings of mobile phones, cameras and other shooting equipment. Doing so makes Huawei fans in store enjoy taking satisfied photos and videos.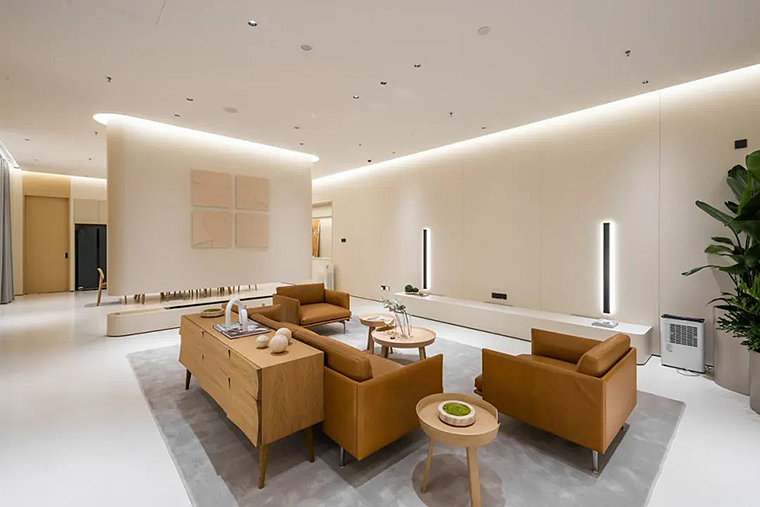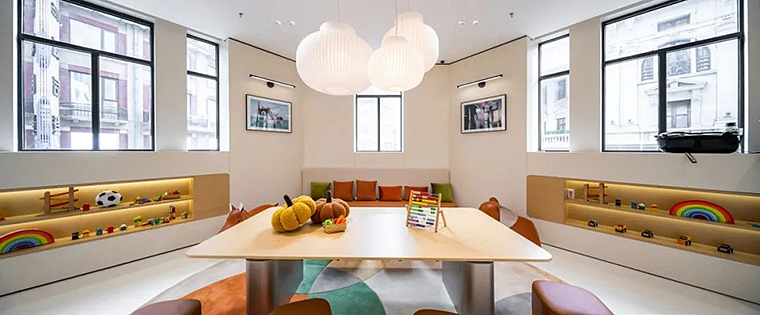 For the smart living scene experience area in the store, it is even more necessary to create a warm and comfortable lighting environment. LTECH's DALI intelligent drivers have the characteristics of stable, reliable control and 100% compatibility, which are suitable for indoor Class I/II/III lamps and can fulfil lighting requirements in all kinds of scenes. Our drivers also feature a constant power design that allows for consistent brightness during color temperature adjustment. This design meets different store lighting requirements of different scenes to create atmosphered aesthetics that highlight the style of the interior space.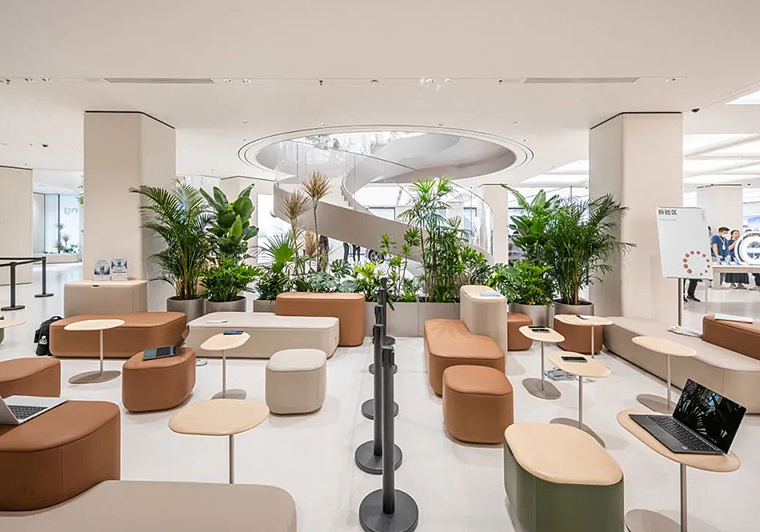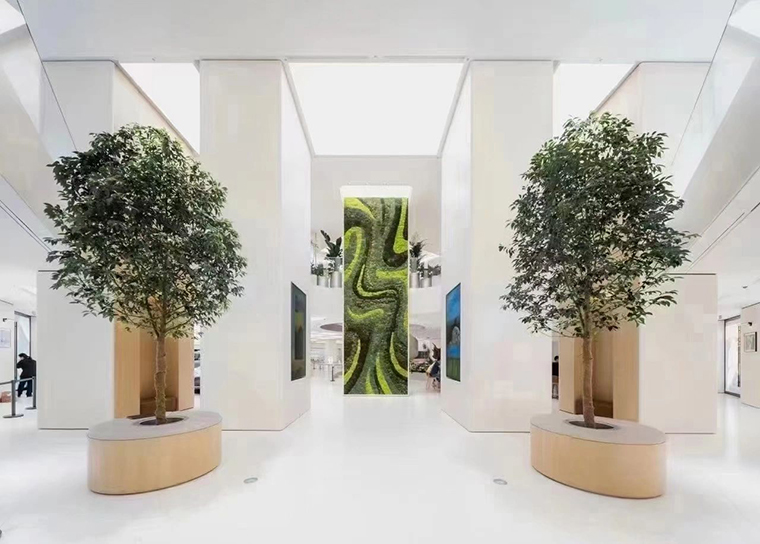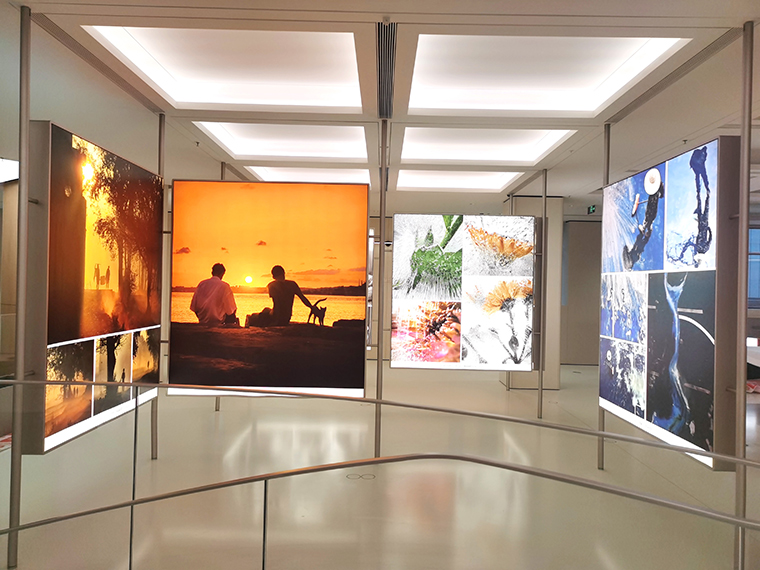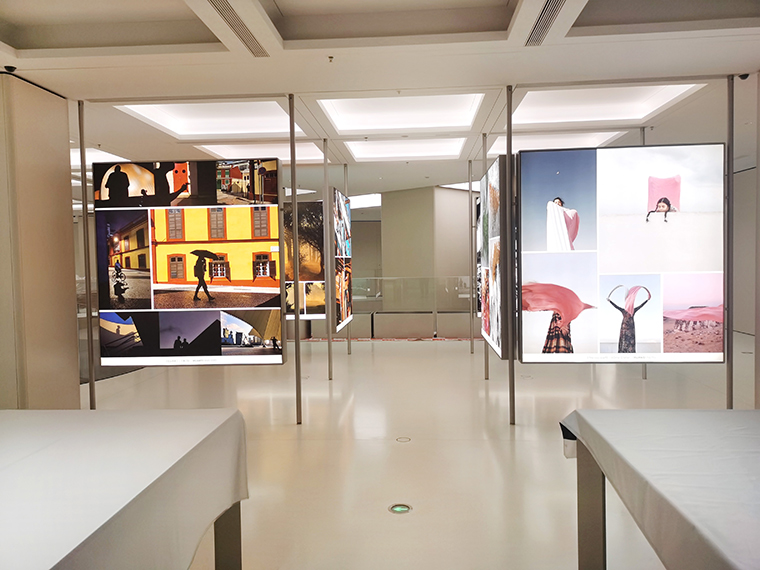 In addition to lighting for product displays and for various scene experiences, the displays of light boxes and advertisements are also very important in commercial stores. LTECH intelligent drivers all comply with the EU's ErP directive with standby power consumption less than 0.5W. Our high-efficiency drivers with an efficiency of 93% are developed to respond to carbon emission reduction- the national dual carbon goals, which are used in large spaces and commercial projects with various lighting demands, being more energy savings and efficient.
Intelligent lighting for technological life
Huawei is a giant enterprise in domestic and even in global technology industry. It has an extremely high level of requirements of lighting environments for its flagship stores. LTECH's DALI products have been in Huawei's flagship store lighting solutions for several times and were used to present excellent store lighting effects to "Huawei fans" over and over again.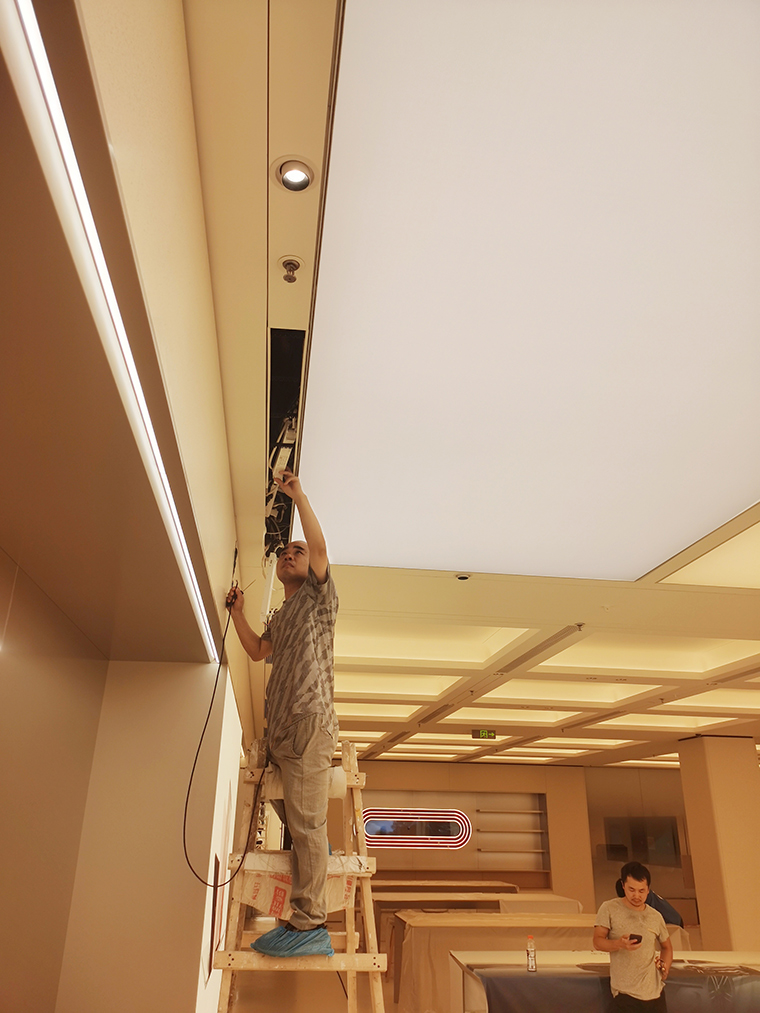 In 2005, LTECH invested in R&D to develop DALI products; in 2007, it launched DALI control devices and DALI dimmers; in 2018, it developed the revolutionary T-PWM Super Depth Dimming Technology, which is applied to its DALI drivers. The dimming technology solved the pain points of several common dimming technologies in the industry, including CCR simulation, PWM, and CCR+PWM. LTECH put forward four professional dimming standards to the industry and define the new dimming standards, which are flicker-free, smooth, precise and depth dimming. With these standards, healthy and comfortable lighting can be applied to various scenarios.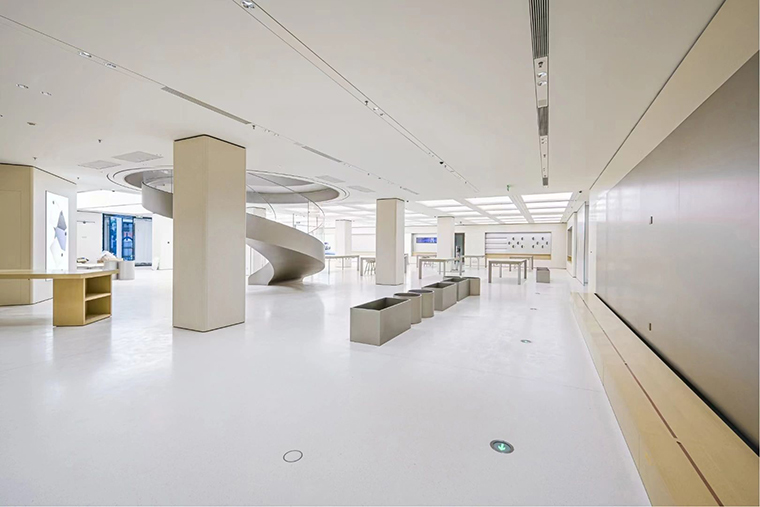 LTECH is a Regular member of the DALI Alliance and a member of the DALI Alliance China Focus Group. LTECH DALI products strictly follow the protocol standards of the DALI Alliance and all the released DALI drivers obtained the DALI Alliance certification, as well as CCC, UL, FCC, TUV, CE, RCM, ENEC, KC, EAC, BIS and ROSH certification.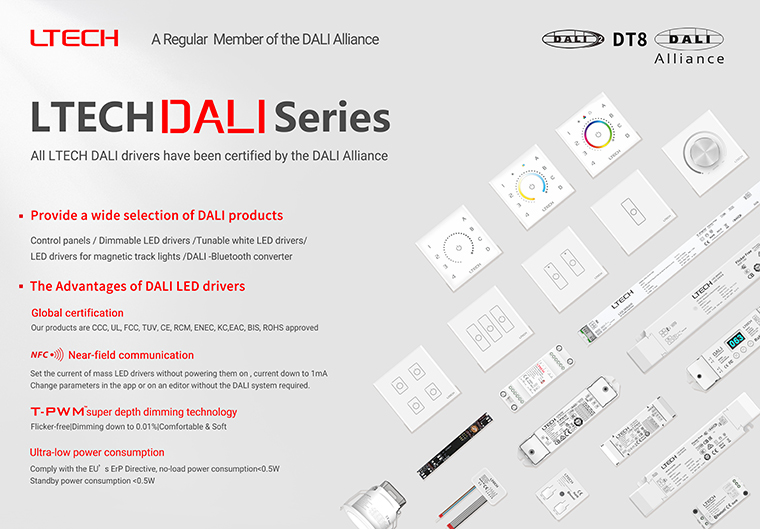 LTECH launched what the industry calls "black technology" in recent years, which is the NFC pre-programmed DALI driver. It achieved the world's pioneering technical breakthrough. Previously, only the current of NFC-enabled drivers can be changed. LTECH NFC programmable LED drivers empower the mobile APP to have certain functionalities of a DALI master, which incredibly simplify the complicated DALI demand settings, grouping, scene settings and commissioning. It has never been so easier to read, write and program LED drivers. We enter the era of intelligence.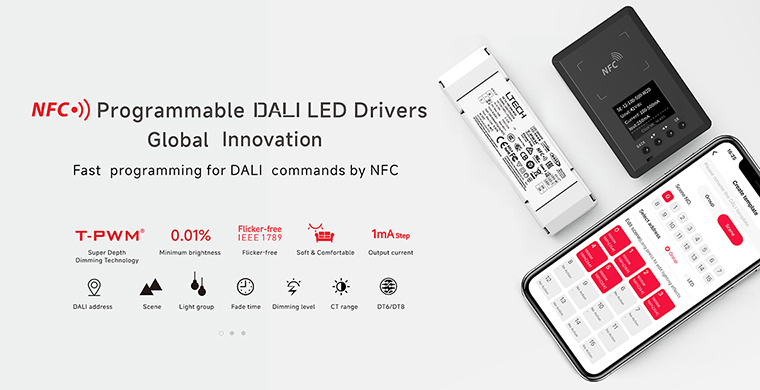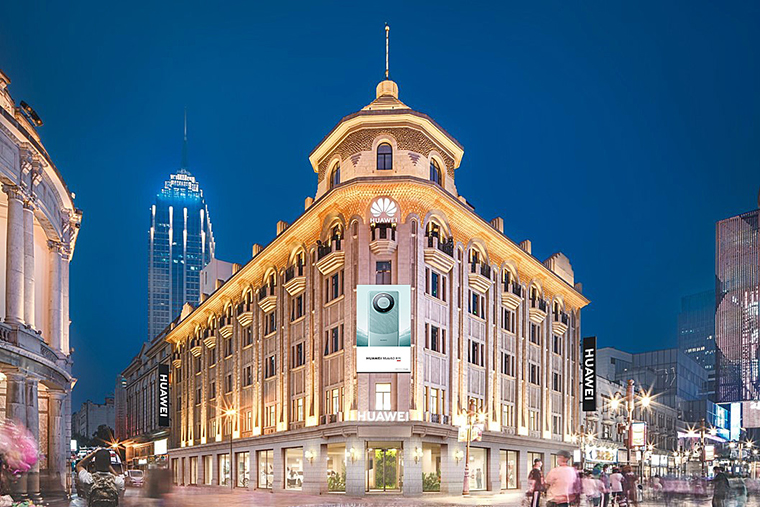 LTECH will continue to create commercial lighting solutions for Huawei flagship stores across the country. Please stay tuned for more detailed case studies.
The images in this article are from the Internet. If there is any infringement, please contact us to delete.