On November 10, 2021, 2021 Smart Home Integrated Services Summit was successfully held in Guangzhou with the theme of " Focus on Regional Market , Compete in Terminal Device ".
This services summit was the fourth and final stop of 2021 Smart Home Integrated Services Summit after it took place in Chengdu, Beijing and Suzhou. With Guangzhou as its center city this time, integrated services forces of the smart home industry in the Pearl River Delta Region and South China was gathered together at the summit to promote the healthy and rapid development of the industry.
LTECH was invited to this summit, which brought other well-known companies in the industry together to discuss the new trend, the new orientation and the future of the smart home market . At the summit, Mr. Long Haiqi, LTECH Marketing Director of Smart Home Division, delivered a keynote speech on the theme of " LTECH Meets People's Needs of Smart Home Scenarios ".
Human-centric Lighting aims to create comfortable environments
Director Mr. Long Haiqi mentioned that the mainstream trend of lighting development in the future is to meet the individual needs of consumers. Therefore, human-centric and intelligent lighting must be capable of delivering individualized experiences through intelligent, scene-oriented, and individualized designs. And good dimming is the foundation of human-centric and intelligent lighting. LTECH started with Human-centric Lighting philosophy and based on its original T-PWM super deep dimming technology to develop a full range of intelligent dimmable drivers with rich function. The drivers enable lighting to imitate natural light that can meet diverse dimming requirements of different scenarios and create comfortable and natural lighting environments.
Lighting-based smart home is a development trend
In a home, lighting is a indispensable element. As society advances, what we expect is more than just illumination. Instead, it has become more of a way of creating a comfortable, healthy and personalized environment. LTECH has a more in-depth understanding of user needs. Make more living scenes possible through lighting; adjust brightness, color temperature and colors of lights; adjust the soft start time; adjust the circadian rhythm to make lighting change in accordance with rhythm. Currently, more and more companies start to pay close attention to lighting in the smart home sector, and the important proportion of lighting in smart homes. It will be a inevitable development trend of smart homes in the future.
Be a leader of intelligent lighting in 5G era
5G will make IoT applications more mature, cloud computing will make feedback more timely, and artificial intelligence terminal will provide more considerate services. The development of intelligence is inseparable from the rapid development of science and technology. After nearly 20 years of the accumulation of technology, LTECH started to build its own cloud service in 2015. The L-Home Cloud Service is built on the Alibaba IoT platform.Through home appliance modules and the AI platform, light fixtures , home appliances, energy management devices and other devices in your home can be connected remotely to create more intelligent , comfortable,energy-efficient and safer living environments.
LTECH creates comfortable living space with whole house intelligence
LTECH whole house smart control system is intelligent lighting- based. Through the Internet of Things, artificial intelligence, network communication and other technologies, LTECH unify smart gateways, smart home appliances, speakers and other smart devices together to build future-orientated smart ways of living by the use of multiple interaction modes. It aims at creating a convenient, comfortable, healthy and safe living environment.

LTECH Whole House Smart Home System is compatible with Wi-Fi, 2.4GHz, IR, 433MHz, 315MHz, BLE Mesh. We provide users with one-stop solutions, which enable end-to-end implementations by transferring data to the cloud and providing the ability to manage users' devices via the App. Based on the remote code library with more than 1000 brands, users can have a comprehensive control of air conditioners, TVs, set top boxes, TV boxes, floor mopping robots, electric curtains and electric airers by the use of a remote, a panel or the mobile App, and achieve linkage among devices. LTECH Whole House Smart Home System is a lighting-based control system,which can control home appliances as well.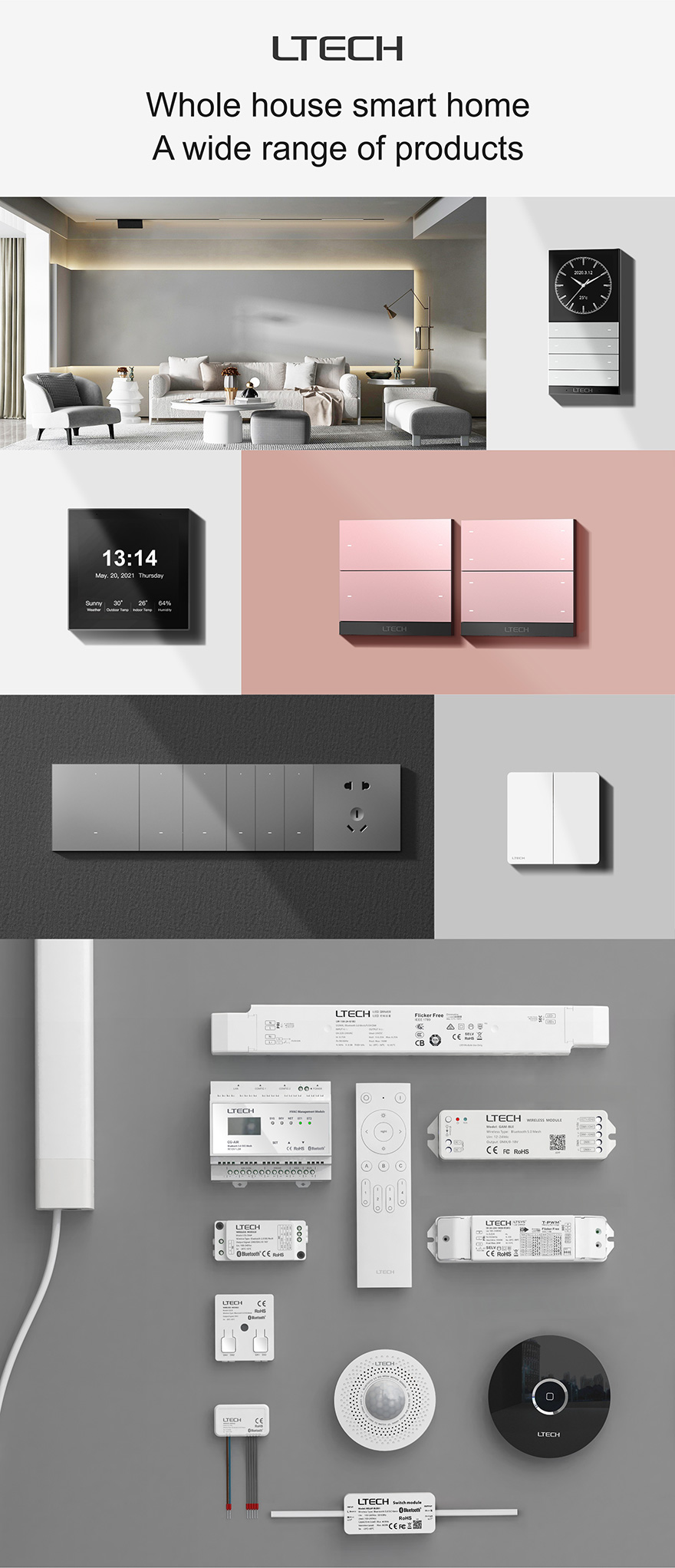 LTECH looks forward to the popularization of smart homes, so more diverse home scenarios will be created to let more people experience a comfortable and healthy smart life!