In a large city, home is a place where people settle down and it gives people a sense of belonging. To modern people, how should they define an "ideal home"?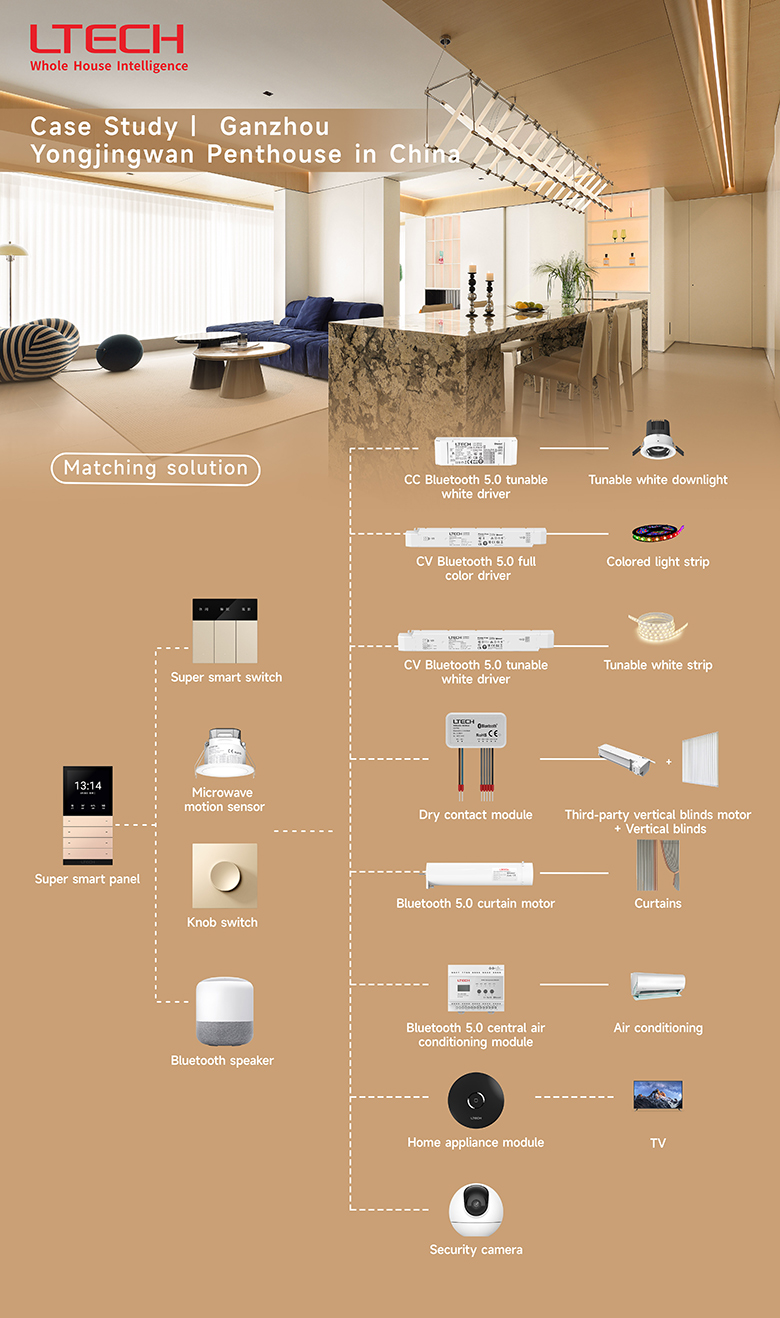 A house with a family of five in Ganzhou Zhaoshang Yongjingwan gives more possibilities to their home. In this penthouse with 130 square meters, the senior, kid, teenage and middle-aged members all have their own unique "smart scenes". The house uses LTECH super panels in combination of LTECH Bluetooth 5.0 whole house smart devices to perform the ultra-stable IoT wireless smart control solution. With LTECH whole house smart home system, create the right solution to make a personalized home.
Double living room design
for the dreams of adults and children
The square living room is cleverly divided into two spaces: the adult's living room and the children's play space. With this semi-open design, two spaces stay connected while apart.LTECH super smart panel is used to control different scenarios. It comes with gateway functionality and has a built-in wired network port and Wi-Fi network access to realize remote control and a variety of functions. A composite system structure is built that combines distributed structure and master structure to bring together combination flexibility, robust functionality and expansibility.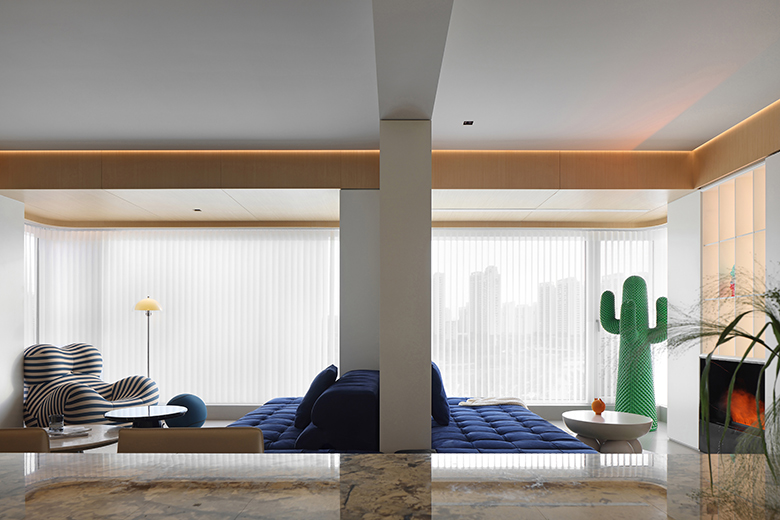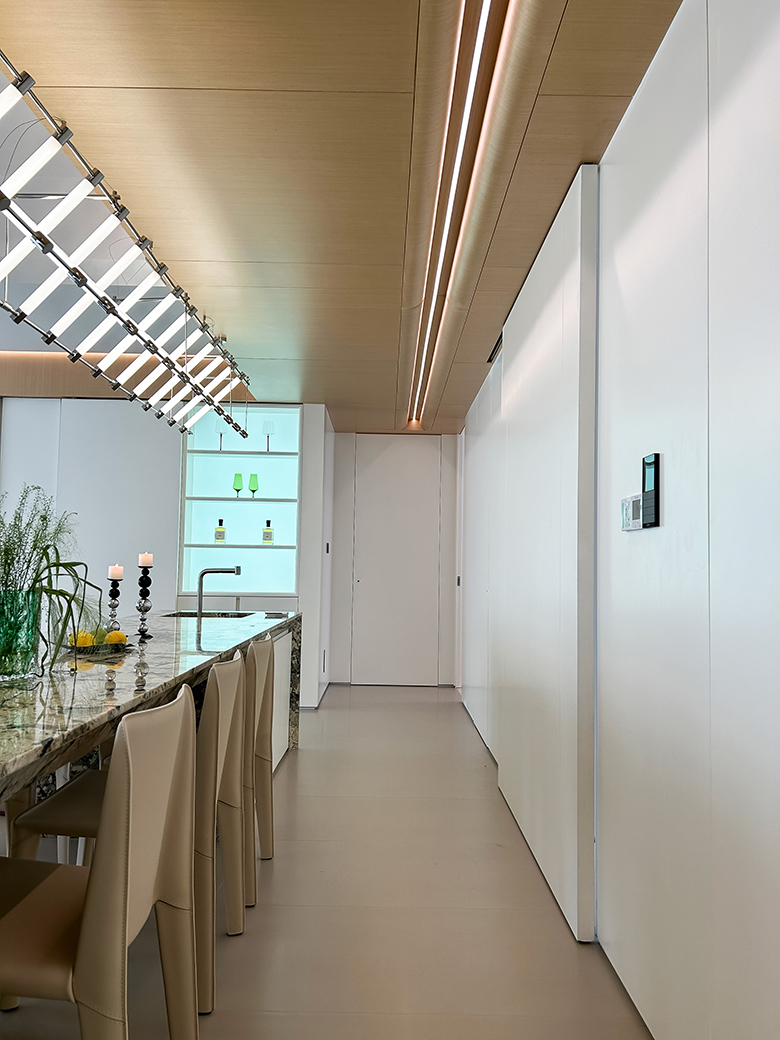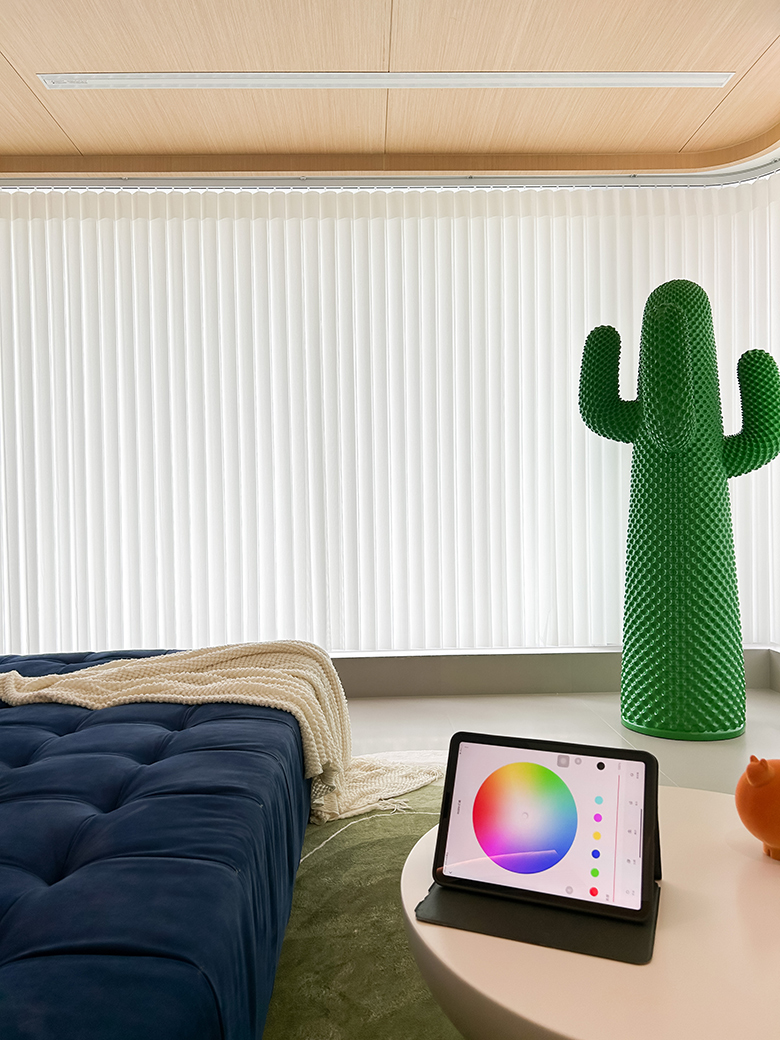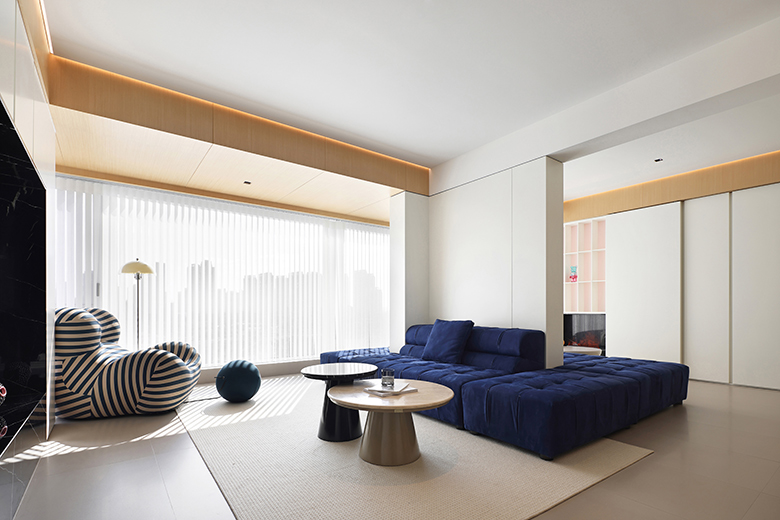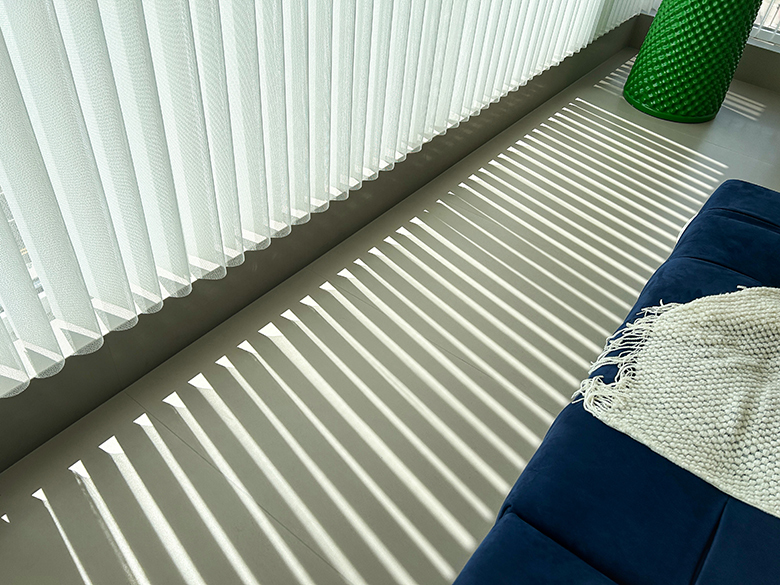 This whole house smart solution adds Bluetooth 5.0 microwave sensors that work with Bluetooth drivers, curtain motors and central air-conditioning module to provide full-scenario smart control. When residents come to a certain space, lights will slowly turn on and the air conditioner will automatically adjust to a comfortable indoor temperature. Let the elderly and children enjoy life freely in a safer environment.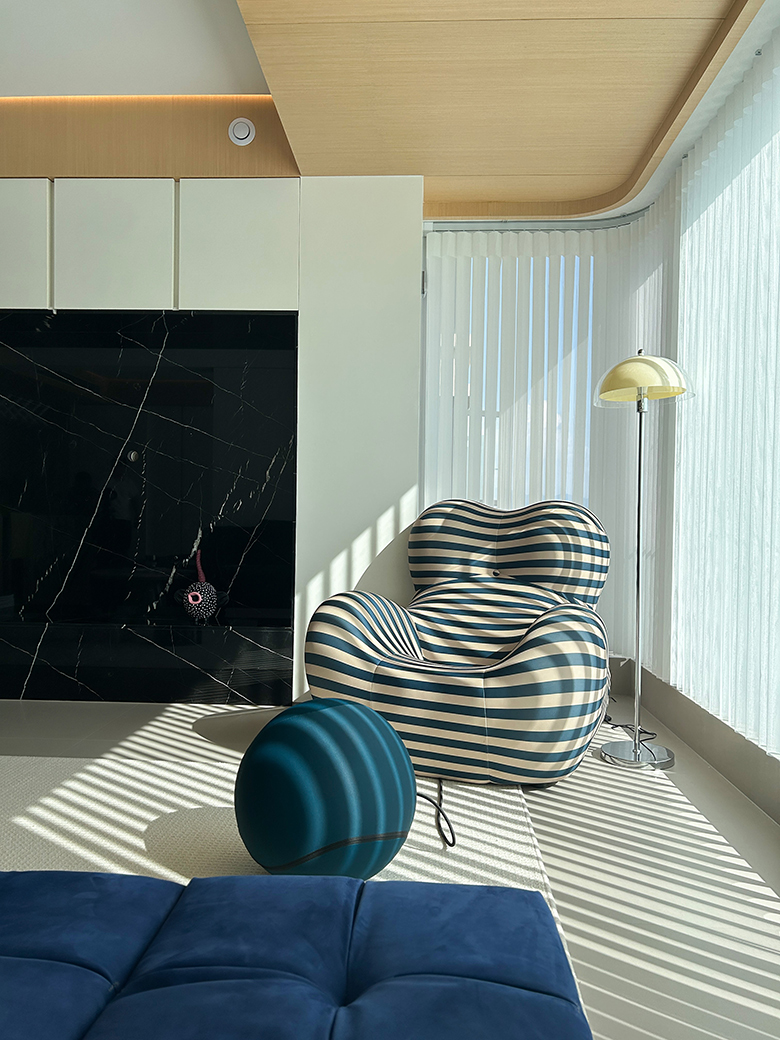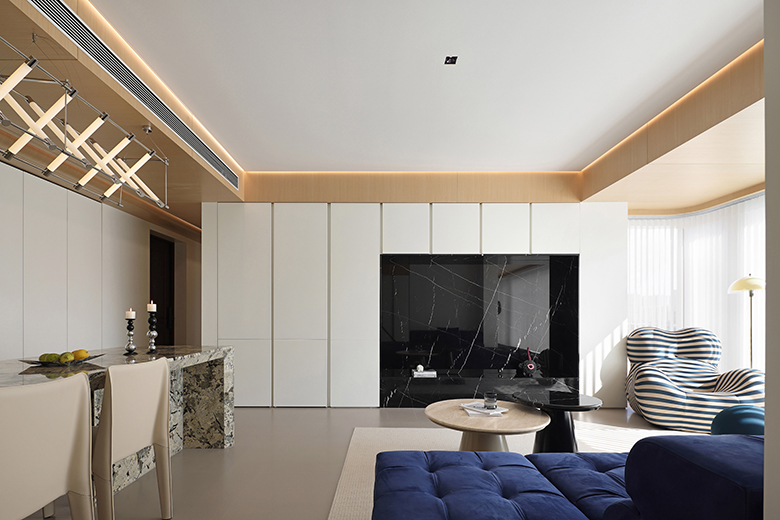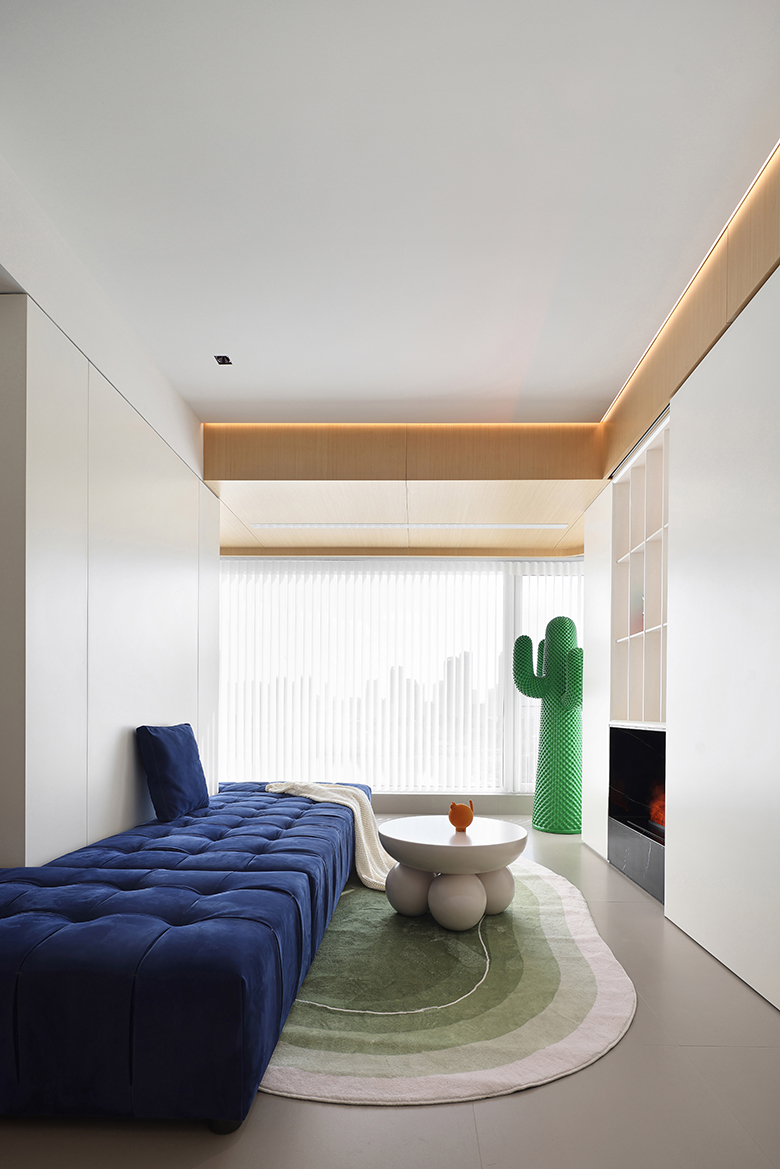 With the help of such strong products, time and labor costs in special wiring are saved during the solution implementation. A stable IoT wireless system is created at a friendly price. In a residential space where a multi-age family live, all members can enjoy smart scenes through diversified interactive methods like voice interaction, touchscreen interaction and microwave detection, who will be able to easily control the entire home intelligently.
At the multifunctional dining bar
still give you romance every time you have meals
The dining room and living room are integrated together to make the space more inclusive. The designer planned to divide the open dining area as a dining area and a home bar space. Through the combined use of the LTECH super smart panel and LTECH Bluetooth 5.0 intelligent drivers, different lighting scenes with different color temperature and colors can be realized.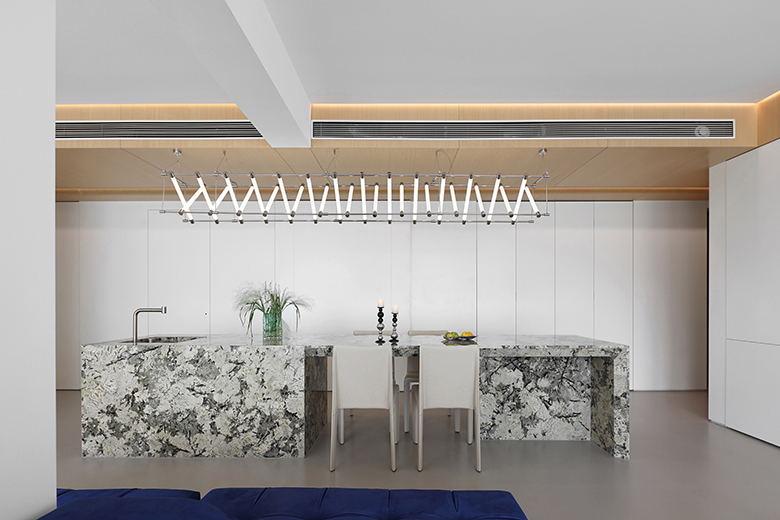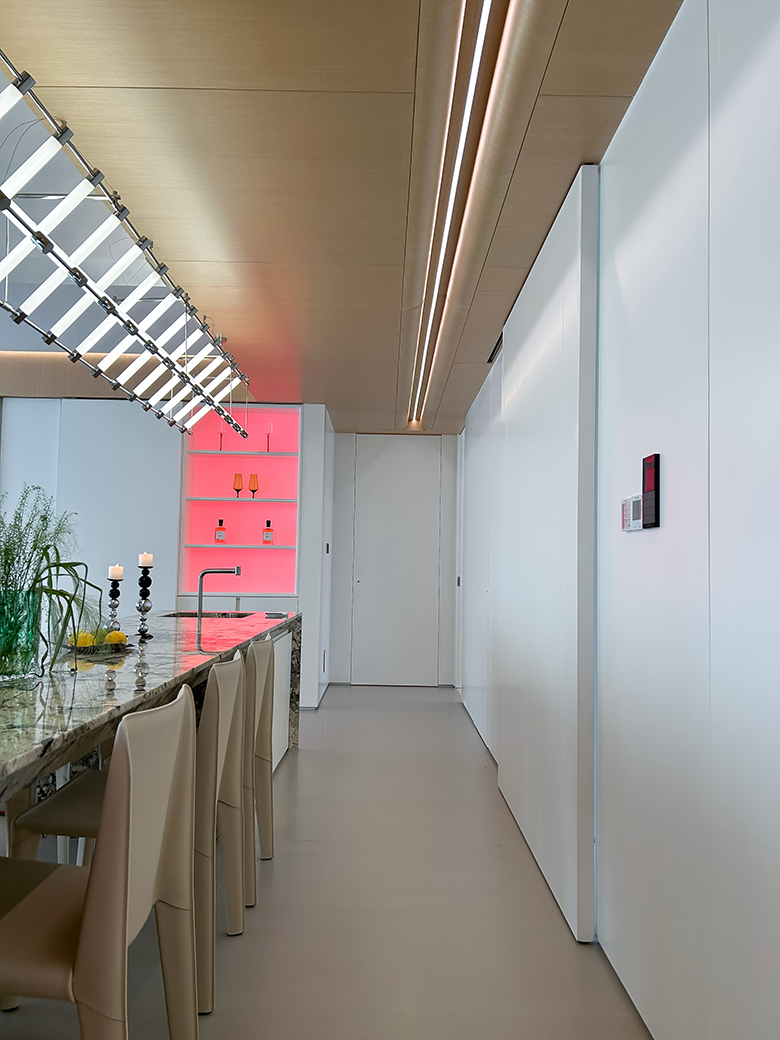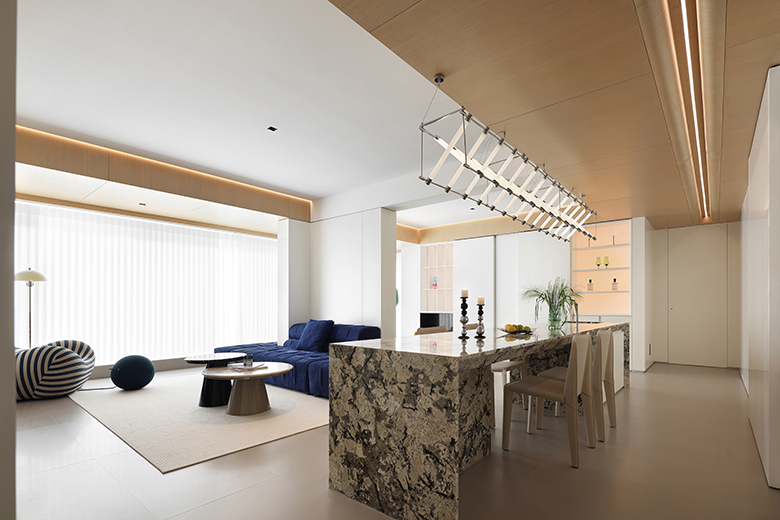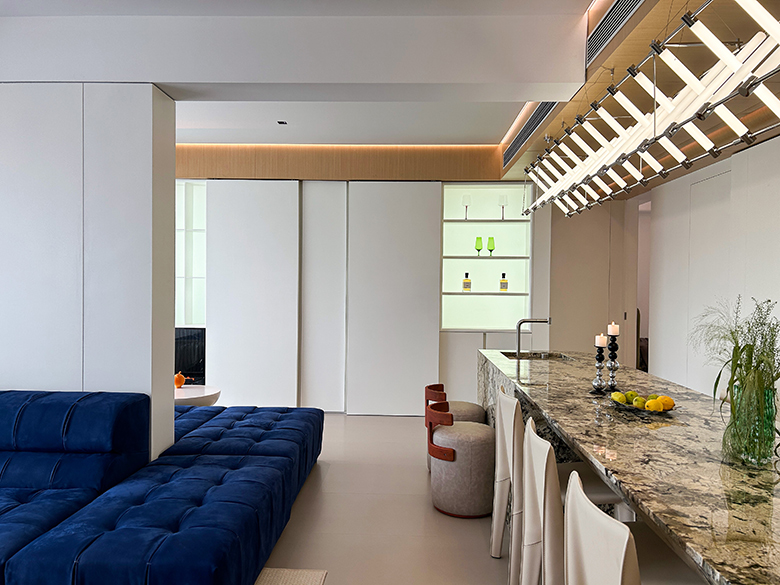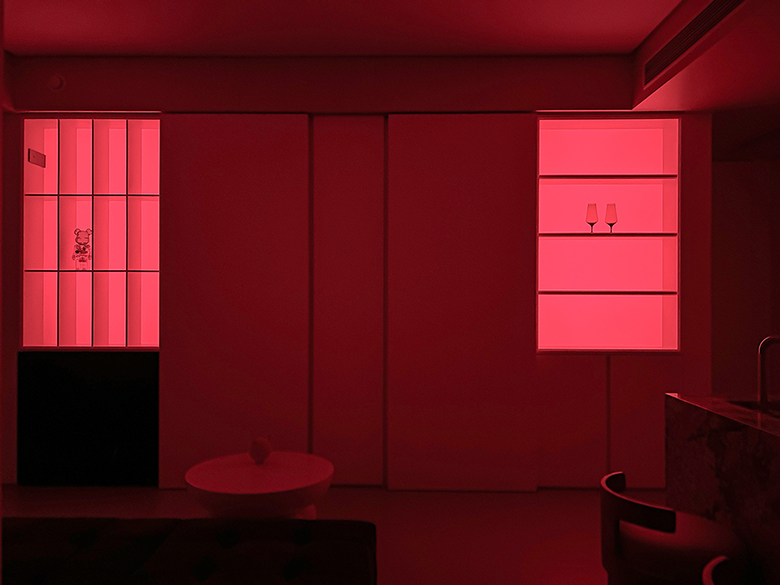 The wine cabinet used for the bar area can instantly transform the home into an atmospheric bar through a small thoughtful lighting idea. LTECH super panel is combined with Bluetooth 5.0 full-color intelligent drivers to realize intelligent control of multiple types of dimming scenarios. Through voice interaction with the super panel and touch interaction with the smart switch, intelligent control of colorful lights can be achieved, and the atmosphere can be "transformed" in seconds.
The aesthetics of lighting environment are all based on healthy, eye-friendly, and humanized lighting. Home is the space where we live every day. We can start with the details of lighting and make our homes more comfortable. All LTECH Bluetooth intelligent drivers are equipped with T-PMW million-level super depth dimming technology, which fits more various lighting scenarios and demands. Lighting is flicker-free during the entire dimming process. It complies with the IEEE 1789 standard and reaches the high-frequency exemption level that makes it easy to create healthy, comfortable, and high-quality lighting.
Personalized room
for everyone's exclusive space
In terms of room division, there are a master room, an elderly room, a children's room, a study room and a housemaid room. When the space functions are well-segmented under a variety of devices, a smart switch panel is the key to making the home "smart" which can distinguish scenes and intelligently control all home devices with one press.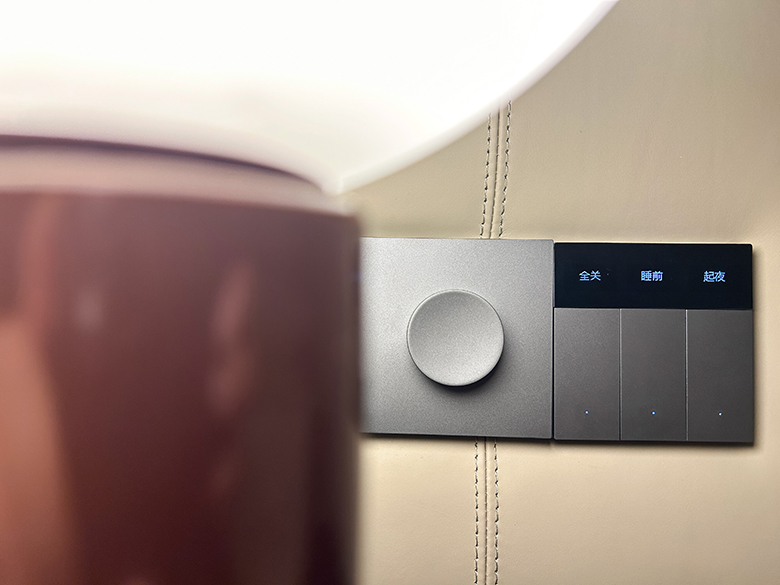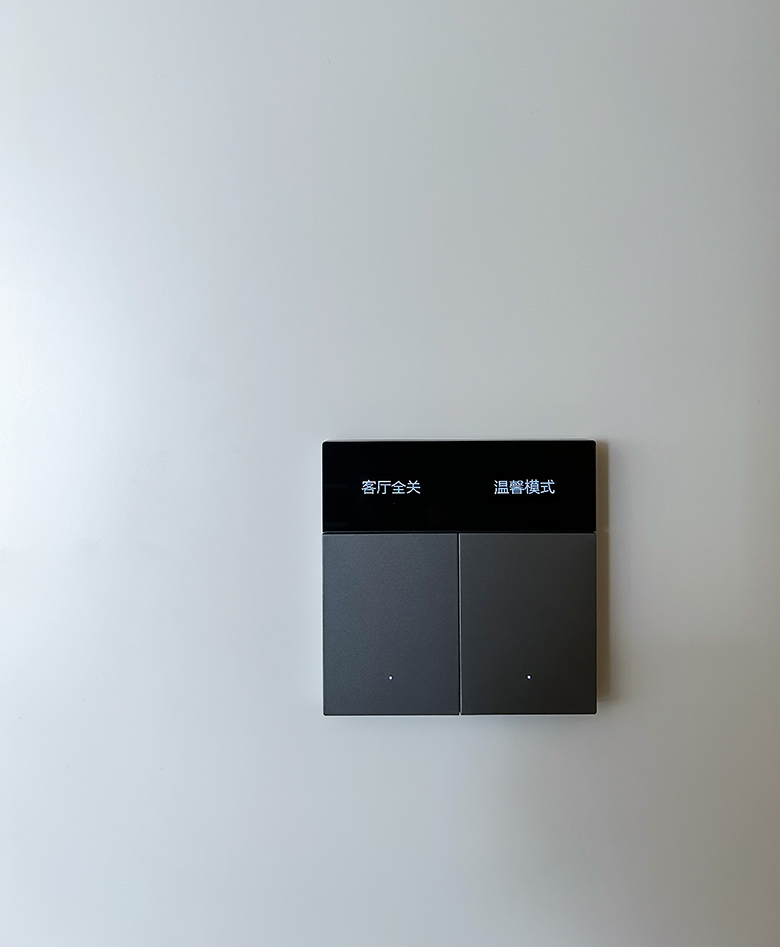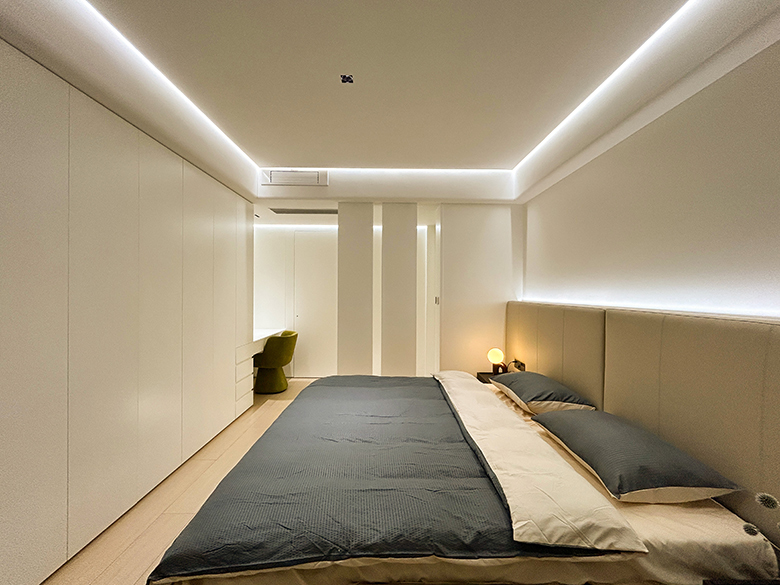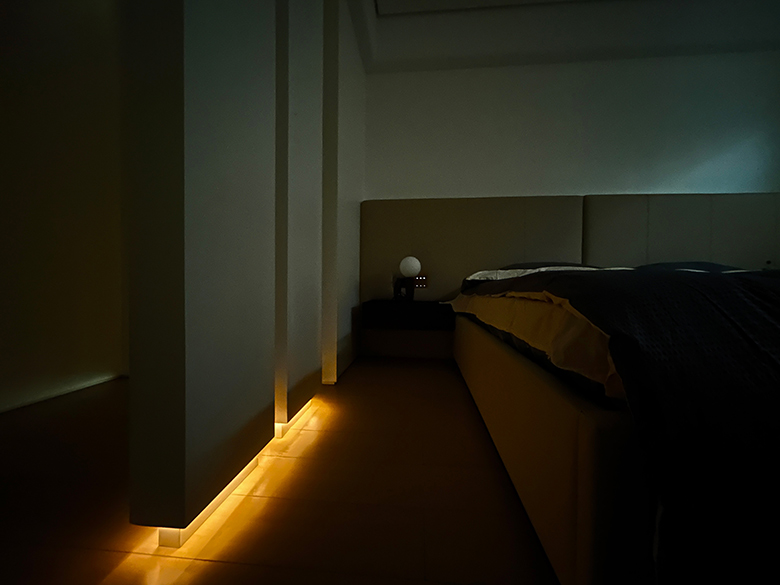 For different work and rest routine and different living scene requirements of members, the rooms use LTECH creativity series panels with an editable screen. Each button has one PMOLED screen space. Customized scene names can be synced to the screen at any time via L-Home APP. This better distinguish various whole-house smart scenarios and offers more flexibility to button naming.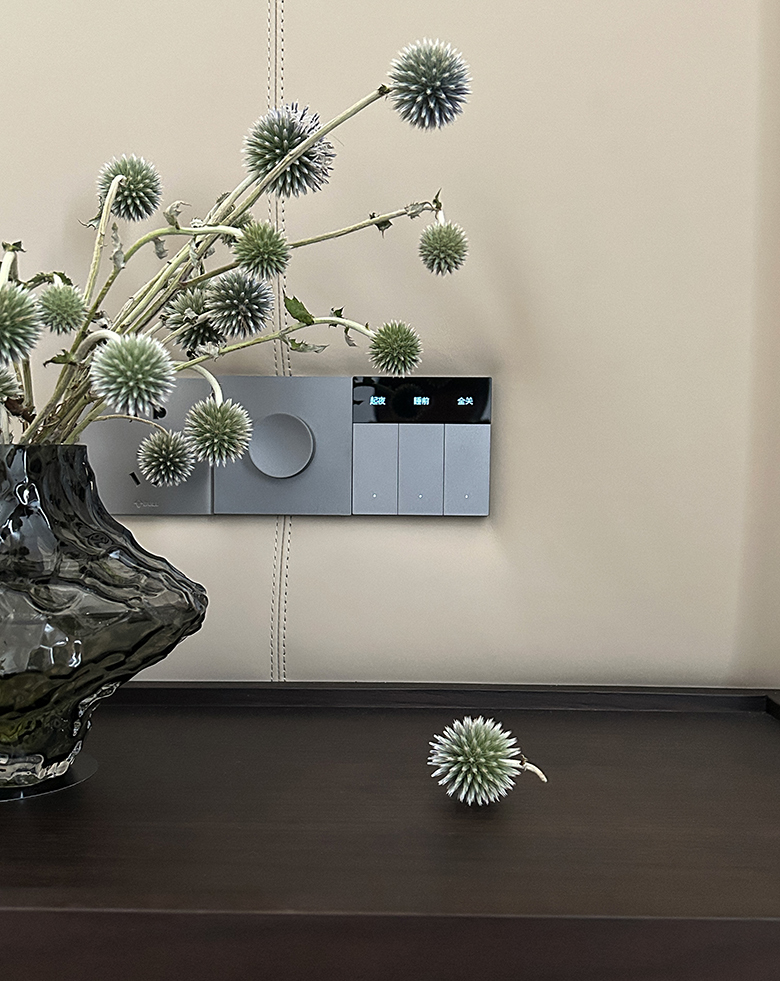 At the same time, LTECH smart knob switch is combined together to accurately control the light brightness, color temperature, and colors. It can also be used to open and close the curtains. Doing so makes smart interaction methods more diverse and convenient.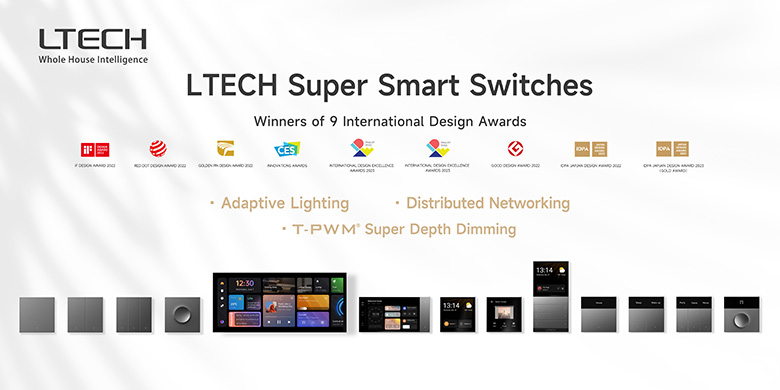 LTECH designed a full range of exquisite super smart panels that have won a total of 9 international industrial design awards. They define the aesthetics of panels and fit different interior design styles. The smart panels all use the international standard Bluetooth SIG Mesh 5.0 networking technology and are compliant with the Bluetooth mesh networking specifications. They also obtained SRRC mandator wireless certificate and CCC mandatory certificate in China, which are compatible with various brands of lamps on the market and allow more creativity in smart home lighting solutions.The OTA online upgrade keeps the products always up-to-date to meet the diverse needs of designers at any time.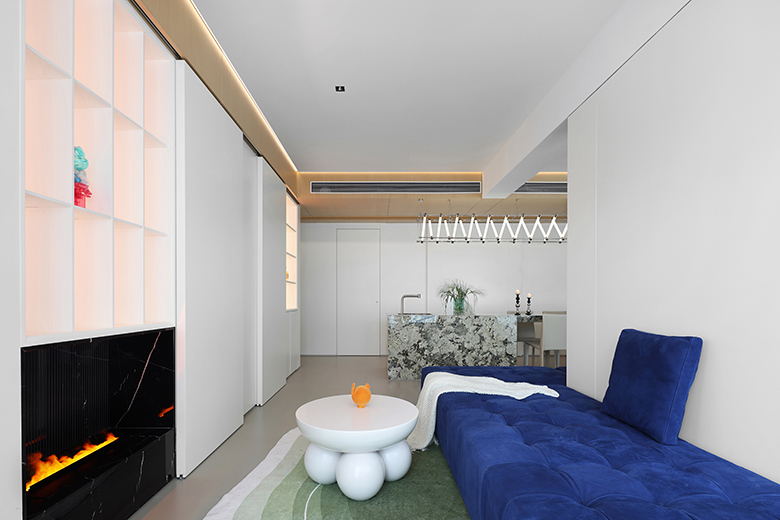 As people have a rising demand for the personalized house designs, multi-functional spaces and versatile smart home devices become popular among youngsters. Therefore, whole house intelligent solutions will correspondingly incorporate a variety of living scenes.LTECH developed a complete range of lighting products for smart control, which can be classified into "LED controller", "Intelligent LED driver" and "Smart home" and are widely used in smart homes, smart offices, smart hotels and other projects. We provide one-stop intelligent lighting control solutions to global customers.