Just as a good poem always puts profound truths in the most common languages. Good lighting, likewise, puts extraordinary effects in our daily life. So today, I am going to have a tour with your guys to SIKI Lighting. It looks like a fairly exquisite and fashionable restaurant from the outside. But actually it is a lighting enterprise filled with fantastic atmosphere in which "lighting is on sale only". Next, please follow me to experience the professional lighting show brought by SIKI Lighting.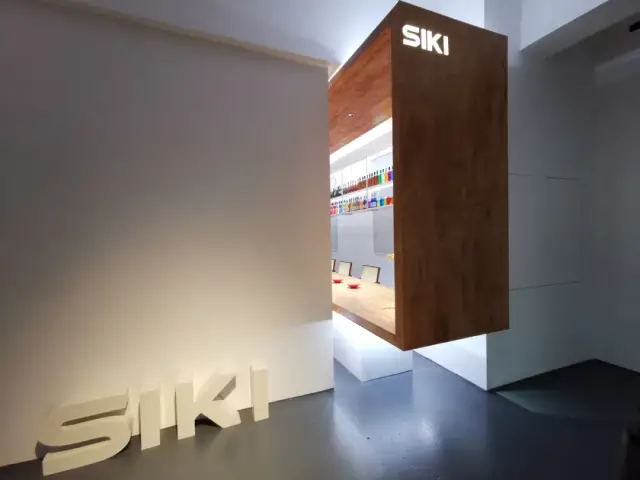 SIKI Lighting
Since its establishment in 2012, SIKI Lighting has always focused on catering space with the mission of improving the lighting environments for catering space so as to provide consumers with comfortable experience space. SIKI Lighting has provided professional lighting services for more than 500 catering brands and 5000 restaurants. This time, SIKI Lighting applied LTECH MS Commercial Lighting Showroom Demonstration System to control lighting changing effects in the restaurant.
Collection of lighting effects from SIKI Lighting
MS Commercial Lighting Showroom Demonstration System is controlled by MS Panel, which can work with 300 kinds of driver accessories freely, such as DMX controllers, decoders and dimmable drivers. It supports 512 customized scenes max and can be operated and controlled flexibly just in one panel or one mobile phone, which successfully solves the complex problem of multiple scenes and multiple demands in commercial space. It was born for light, loved and used by varied commercial spaces.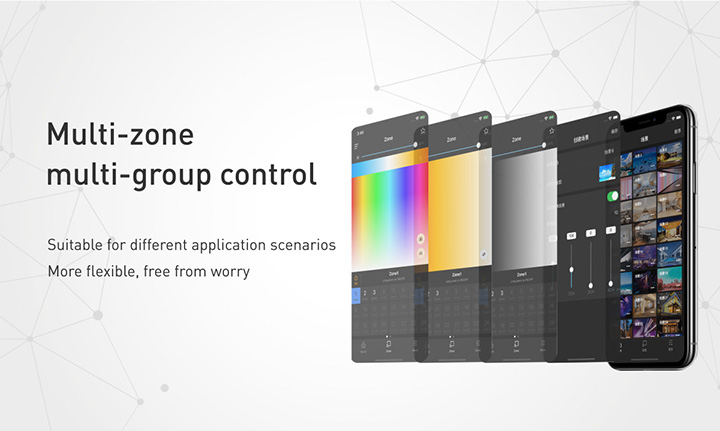 Flexibly control multiple zones and groups
Lighting is the soul of space. Emphasizing the function demands of each space is just as a makeup artist needs to know which details get to be added colors and mix shadows well, so as to show the unique temperament of humans and make them even more radiant. The lighting effects from SIKI Lighting displayed on the whole is rich and colorful which not only attribute to superior lights and powerful control system, but also the high-quality decoders that work with.LTECH DMX decoders are able to control dimming, CT, RGB、RGBW、RGBWY for each channel and accurately display 0-100% dimming and various changing effects that make space changeable and interesting.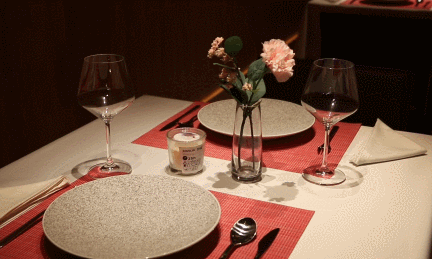 Dinning atmosphere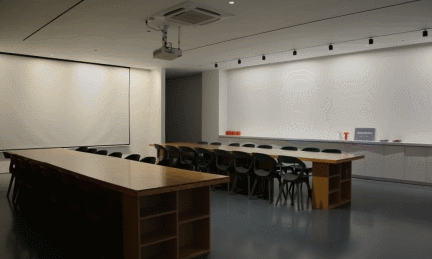 Dynamic chasing of lighting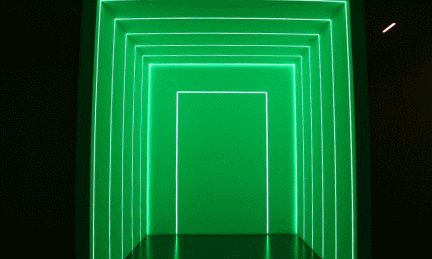 Glistening lighting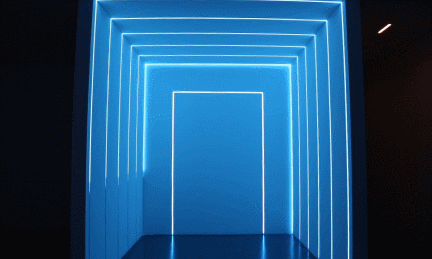 Colorful lighting chasing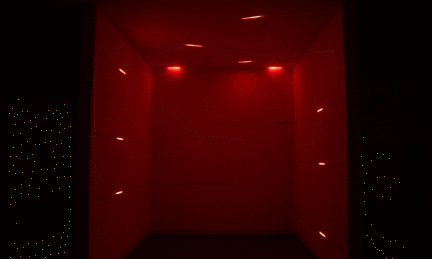 Dynamic effects of colorful glistening lighting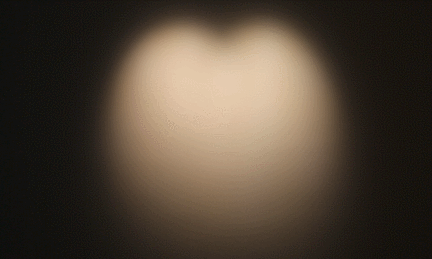 Thrilling mark
In addition, Ms Panel realizes global remote control, support DMX / RF / Bluetooth 5.0 mesh / Wi-Fi signal protocols, and work with modules to support external dry contacts to control other dynamic scenes(For more details, please click here)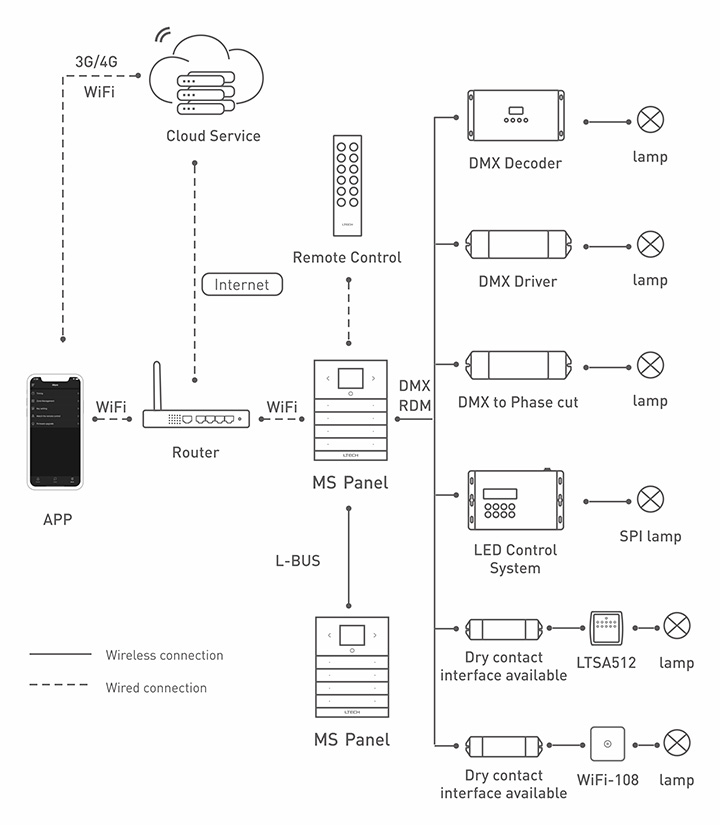 MS Panel system diagram
In order to better serve our customers, LTECH launched the online docking service. You can directly add LTECH official email account- lt@ltechonline.com Provide your needs and a special project manager will be arranged to offer you one-to-one service. MS Commercial Lighting Showroom Demonstration System was born for light. We are Looking forward to your coming with your own needs.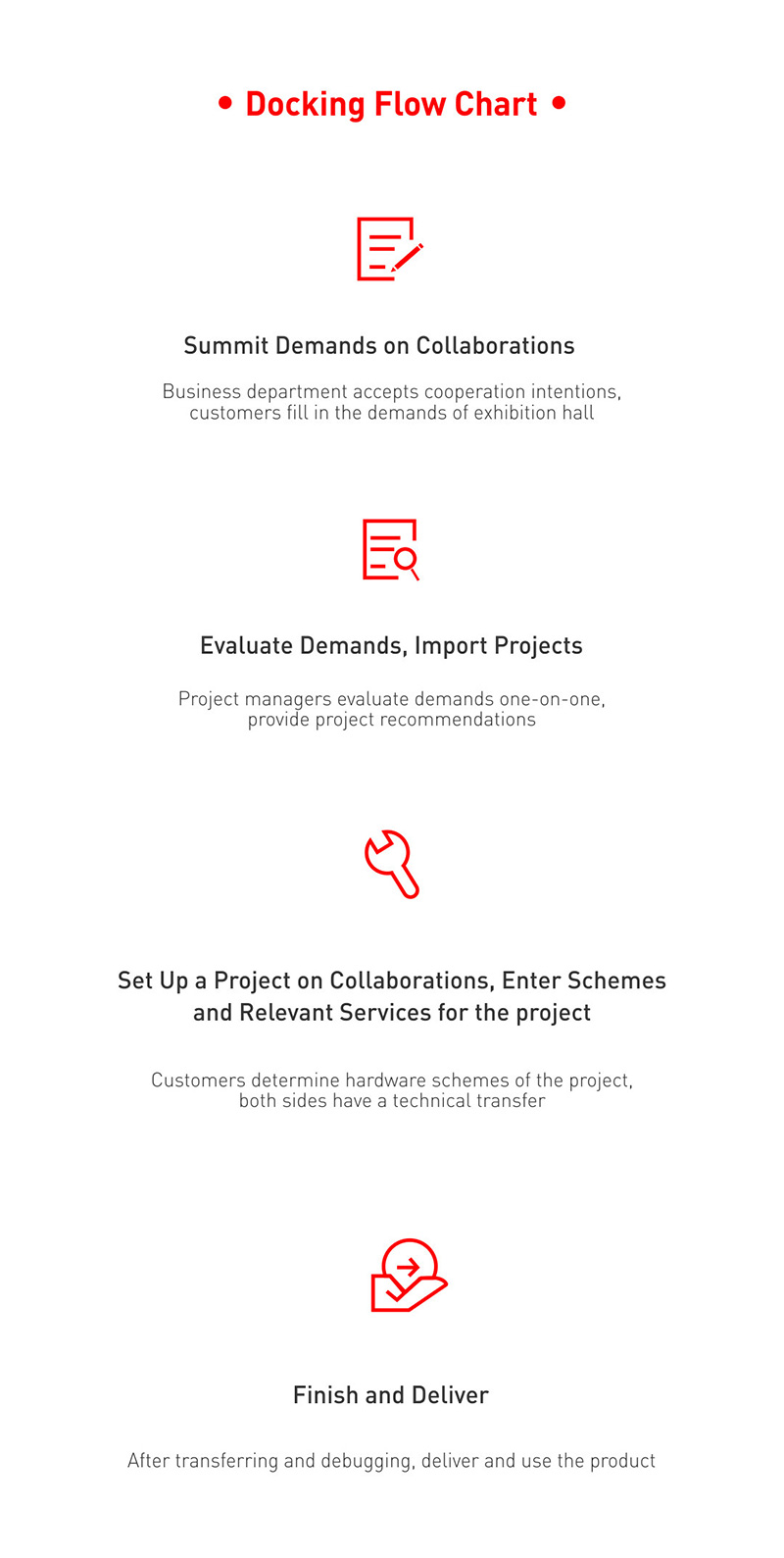 Docking Flow Chart
Click to get more info about MS Commercial Lighting Showroom Demonstration System.