In the southwest of Changzhou (also Longcheng), there is a lake called Ge Lake, also knows as Taihu Lake West. It has a long history and was formed between Jin and Yue Dynasty. On the north of Gehu Lake, beside Lanyue Bay, Renaissance Changzhou Wujin Hotel rises from the ground, allowing people to overlook the unique view of the city.
The hotel implements the Renaissance brand's concept of "Discover This Way" and creates the interior design that integrates the city landscape. The public areas of the hotel presents a five-star hotel lighting environment via dimming by use of LTECH intelligent LED drivers.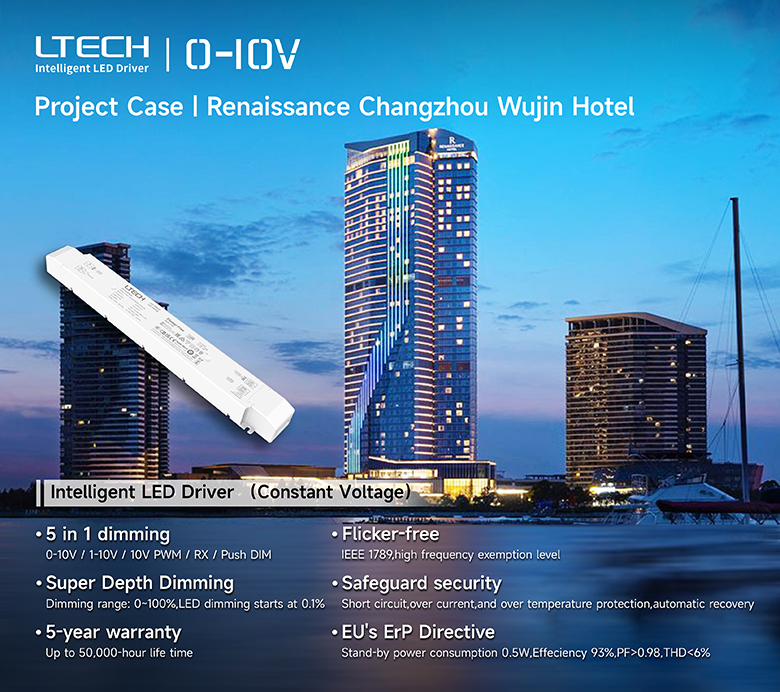 Light for the tree of life
Lighting aesthetics of hotel lobby
Stepping into the lobby, people will start enjoying a seemingly aesthetic picture of scene that is unique to Renaissance hotels. Both the 14-meter-high ceiling and background wall in the lobby have streamlined textures, imitating the natural landscape of the Taihu Lake West Basin. The light strips are placed from top to bottom, and the light fixtures are interspersed among ceilings and walls in an orderly manner, where light is reflected on their texture to jointly interpret the image of the "Tree of Life". LTECH intelligent 0-10V drivers are used in public spaces to make dimming that matches the story of the space and restores the beauty of the design.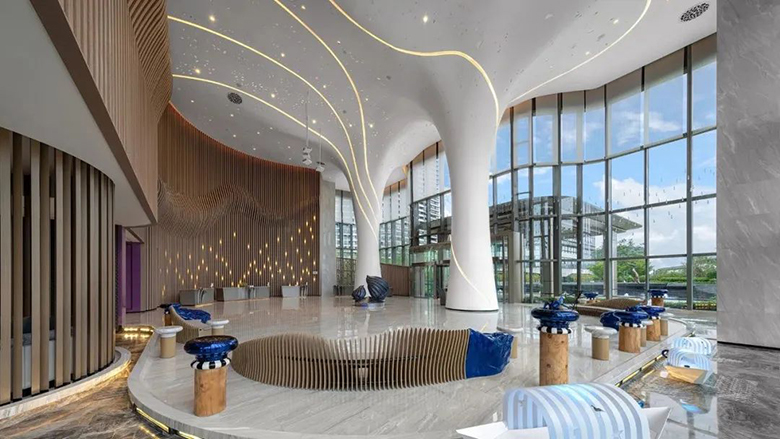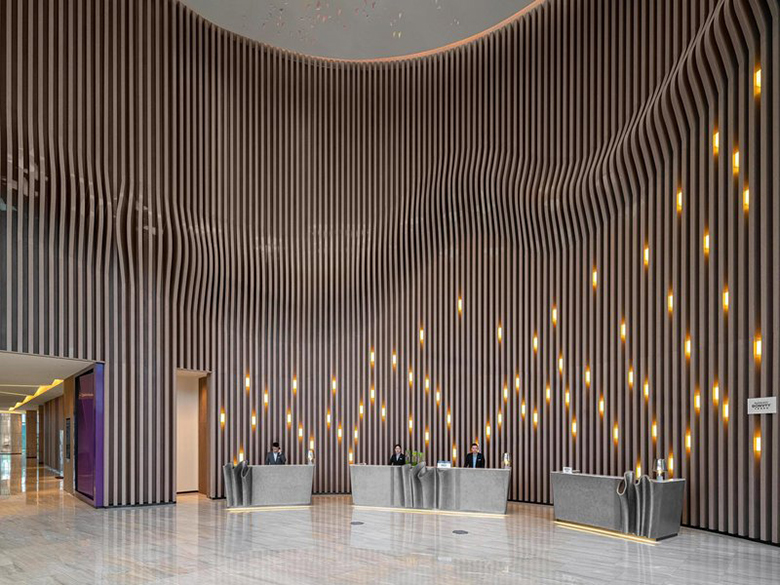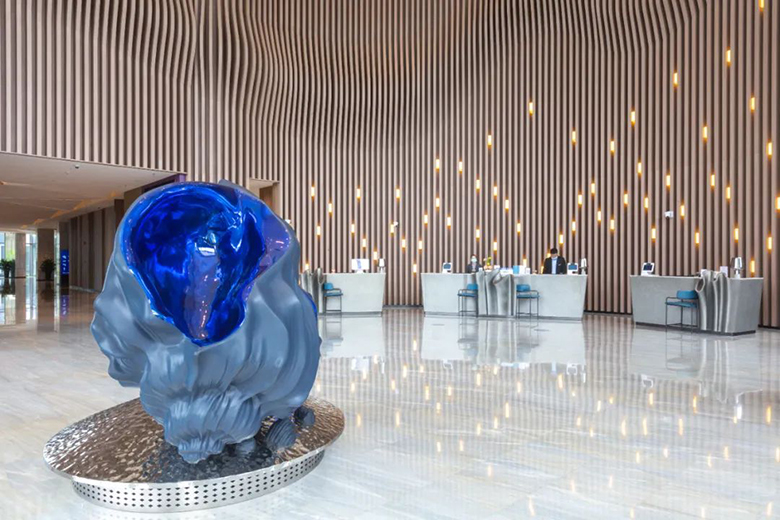 LTECH intelligent 0-10V drivers realizes five-in-one dimming which are compatible with 0-10V/1-10V/10V PWM/RX/Push DIM. They can be used to match different designs of different hotel spaces and to add color to the atmospheres. They are more suitable for indoor Class I, II and III lamp applications and perfectly make designers'lighting ideas come to reality.
Embracing nature with natural light
The design method integrating the landscape into indoors
The hotel's dining and bar area is surrounded by a large area of floor-to-ceiling glass to bring natural light indoors. LTECH's intelligent tunable white 0-10V drivers feature LTECH's pioneering T-PWM super depth dimming technology, providing a perfect visual experience.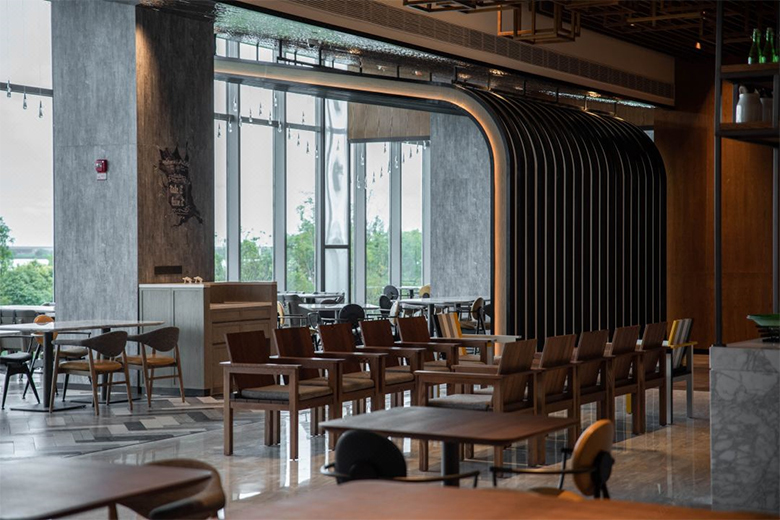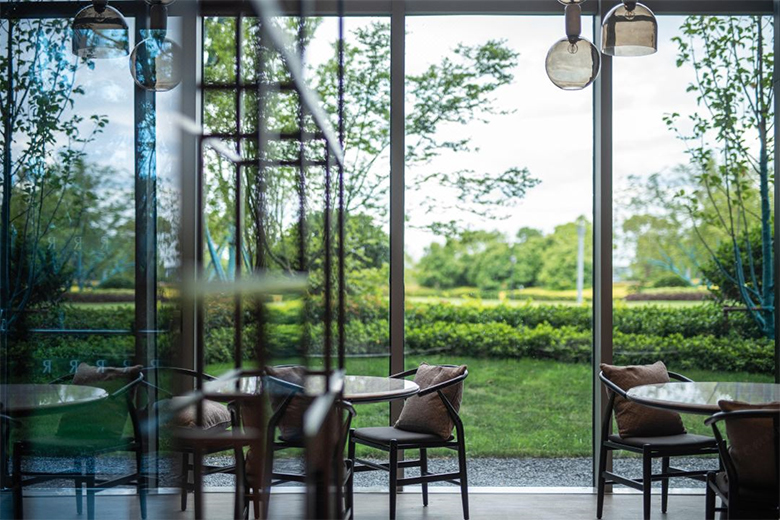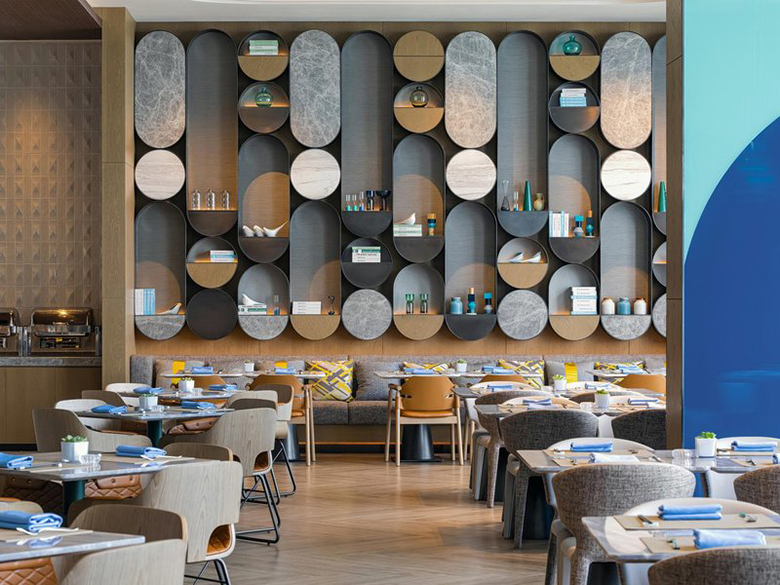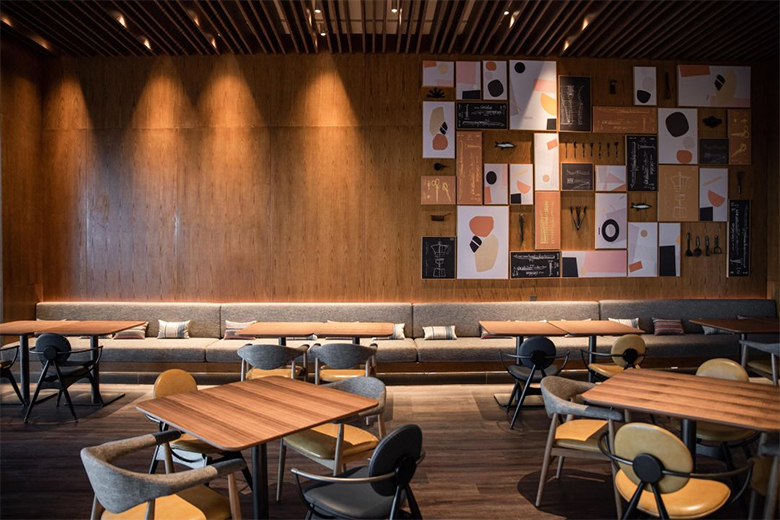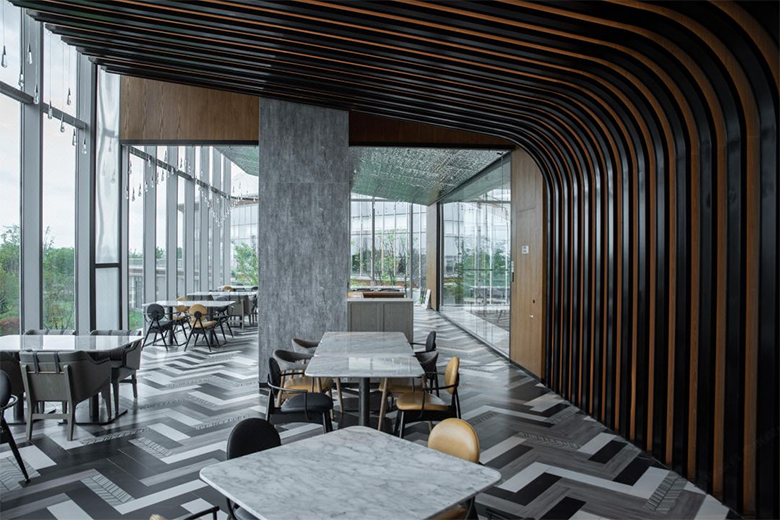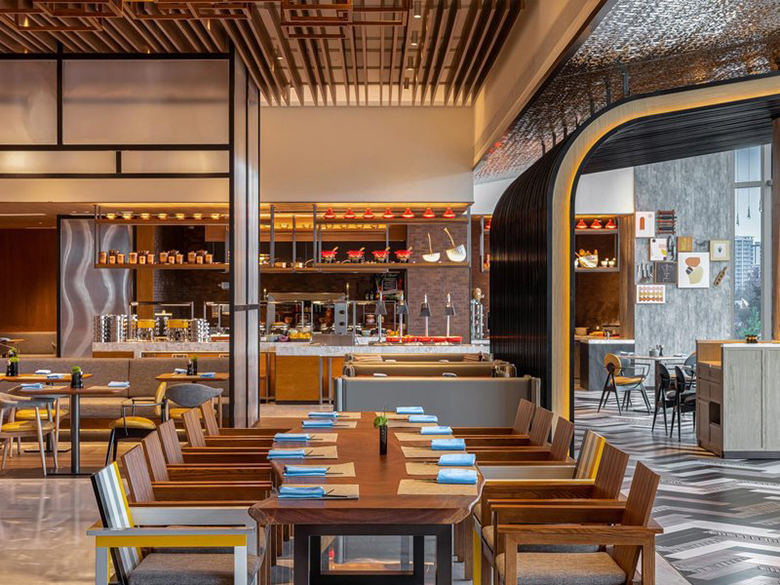 LTECH's intelligent tunable white 0-10V drivers deliver the dimming depth of 0.01%. During the combination of lighting and Renaissance's design aesthetics, the dimming is smooth, delicate, and flicker- free at all dimming levels, which complies with the IEEE1789 standard and reaches the high-frequency exemption level. It helps create the beauty for atmospheres.
Illuminating the beauty of details
The clever use of lighting to highlight design secrets
When people stroll in Renaissance Changzhou Wujin Hotel, no mater in the aisles connecting to different areas or in the corners, designers' thoughtfulness is reflected in each part. The clever use of lighting adds more credits to the spaces and makes them more interesting. In such projects with different lighting demands, LTECH's intelligent 0-10 Vdrivers feature smart AI recognition black technology that can automatically identify 0-10V and 1-10V inputs. With it, users can combine different lighting requirements of different spaces to design while greatly improving implementation efficiency.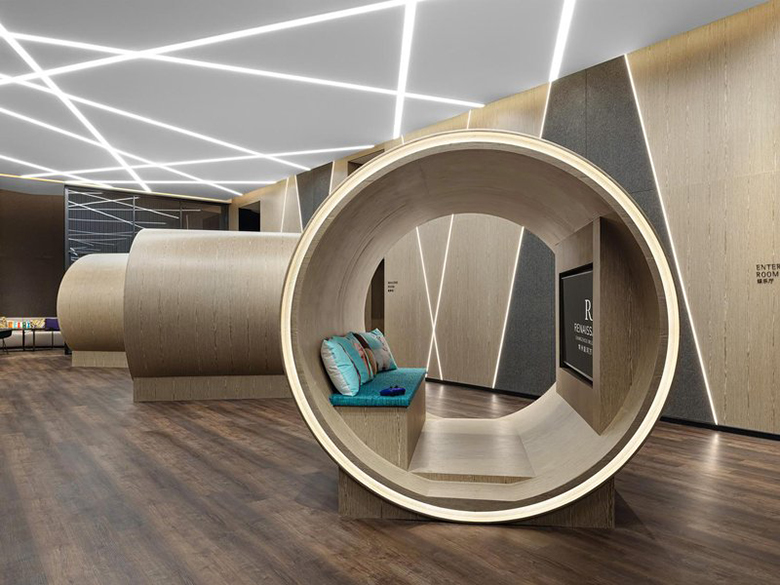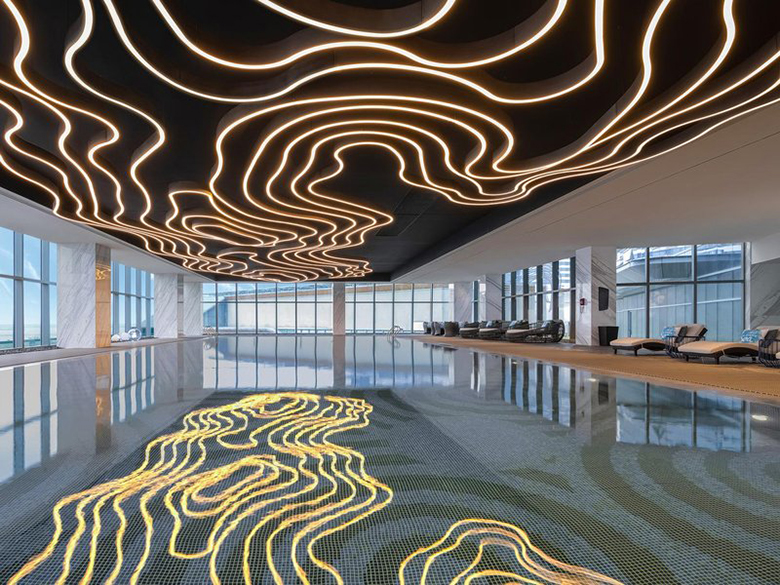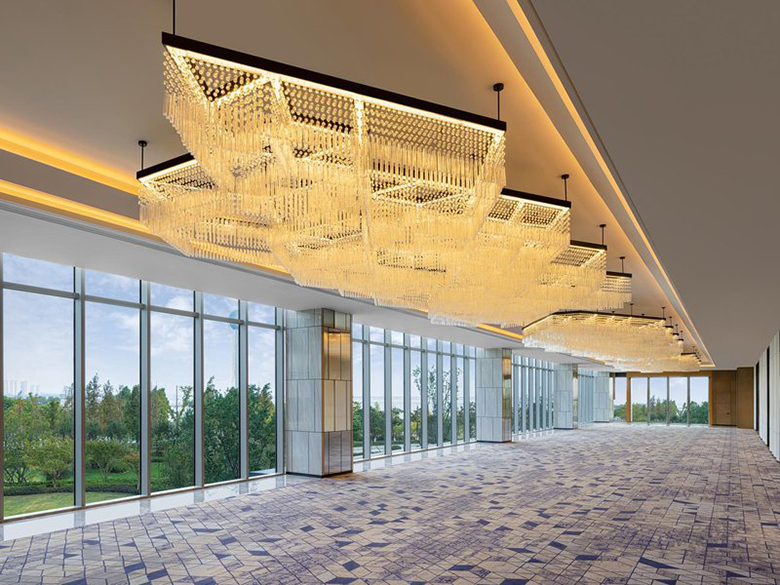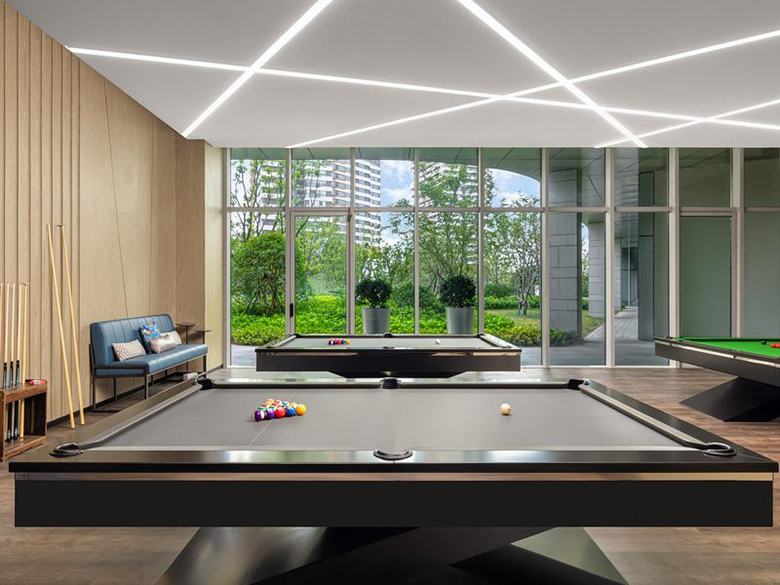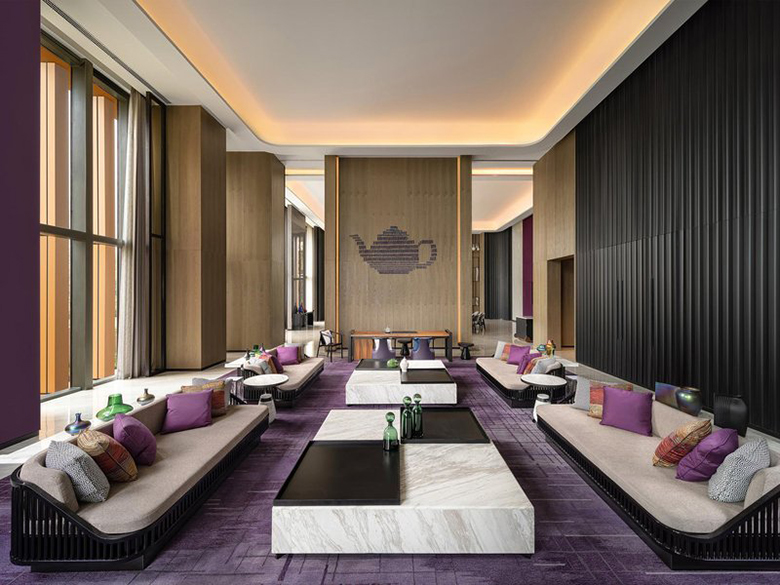 In lighting solutions for large spaces, the ultra-low power interface design of LTECH intelligent 0-10V drivers greatly reduces circuit wiring. More than 200 drivers can be placed on one single circuit while only 10 of other alternative products can be connected. With stronger load capacity, our drivers realize ideal lighting effects with less time and less costs.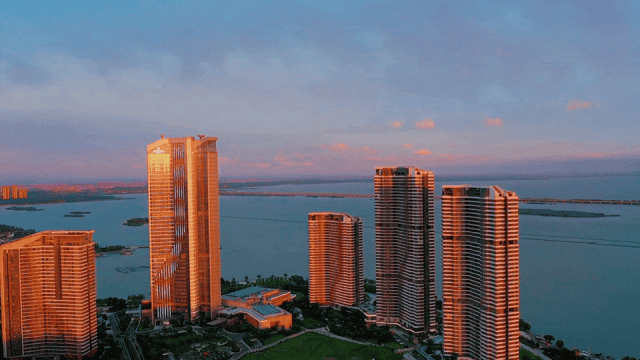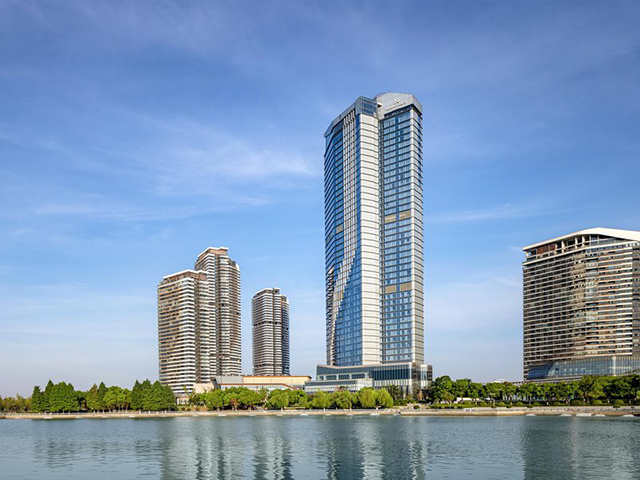 LTECH has created highly praised intelligent lighting solutions for numerous well-known star hotel groups around the world. We have dived deep into the industry for more than 20 years and possess a complete range of lighting products for smart control, which can be classified into "LED controller", "Intelligent LED driver" and " Smart home". We have provided a large number of competitive, safe, and reliable products for numerous smart homes, smart offices and smart hotels. We have created tens of thousands of medium- and large-size lighting projects and we will continue to provide one-stop intelligent lighting control solutions to global customers.
*The images in this article are from the Internet. If there is any infringement, please contact us to delete.