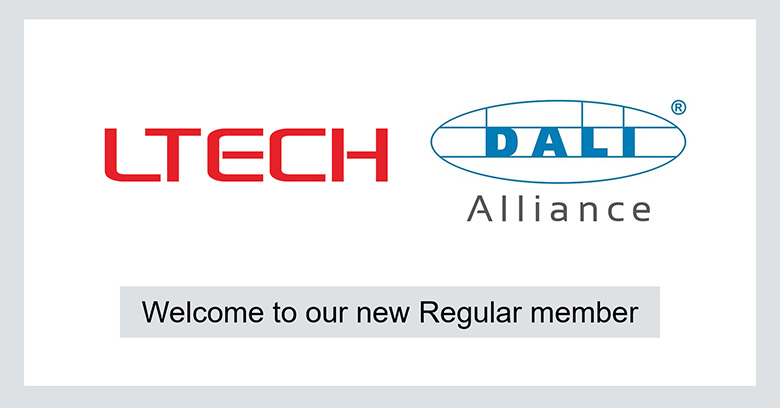 LTECH is the latest company to become a Regular member of the DALI Alliance, which now has 31 Regular members only from the global lighting industry. LTECH is also a member of the DALI Alliance China Focus Group (DALI-CFG).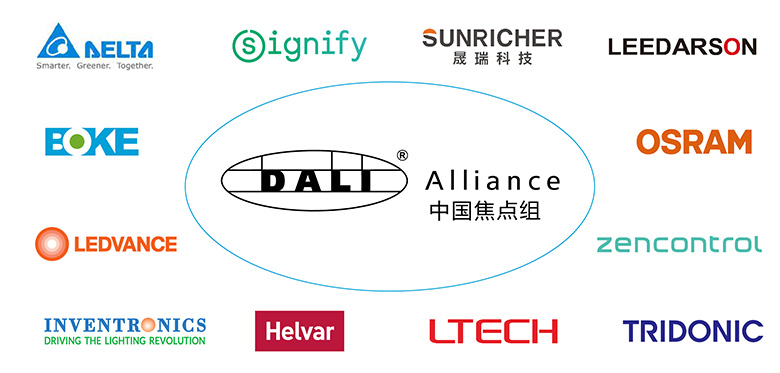 12 members of the DALI Alliance China Focus Group
As a Regular member of the DALI Alliance, LTECH can participate in the work of DALI Alliance and the DALI Alliance China Focus Group, and contribute to the development of test sequences and new specifications. LTECH will also work closely with the DALI Alliance and other members to promote the sustainable development of the smart lighting industry, and make full use of the advantages of our technologies and products to provide our partners with comprehensive support services.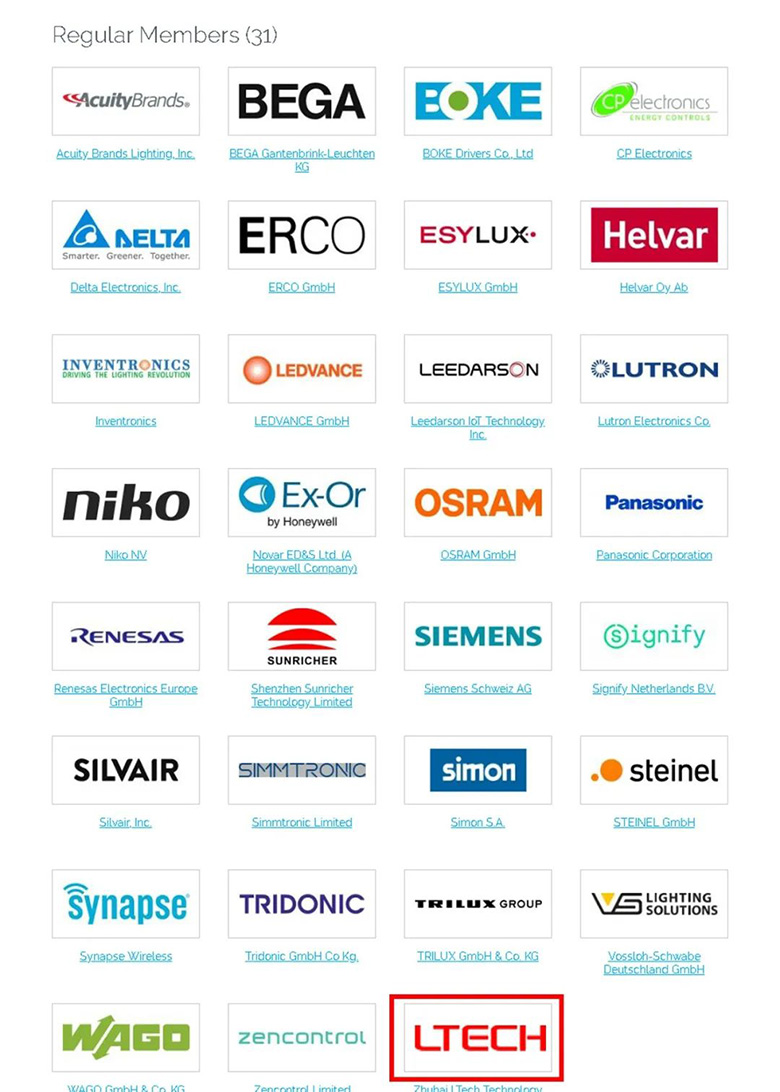 31 Regular members of the DALI Alliance around the globe
LTECH's DALI development process
In 2005, LTECH greatly invested in R&D to develop DALI products; in 2007, we released DALI controllers, DALI dimmers and other DALI series products; in 2018, we pioneered the revolutionary T-PWM super deep dimming technology that is used in the DALI drivers. It has solved the shortcomings of several common dimming technologies in the industry, including CCR simulation, PWM, and CCR+PWM. Moreover, we defined the industry's dimming standards with four new standards, which are flicker-free, smooth, precise and deep dimming.
LTECH defined new dimming standards
LTECH's T-PWM super deep dimming technology is refined by the PWM dimming, which can dim lights down to 0.01%. LTECH took the lead in achieving the dimming down to 0.01% for DALI drivers. T-PWM super deep dimming technology is the dimming curve algorithm that combines frequency conversion. According to different frame rates, aperture, focal length on your phones or cameras, the dimming technology can still meet the requirements of delivering lighting that's flicker-free and enhances your visual comfort, and also passes the stroboscopic test.
Comparison of filming effects when aperture and focal length are adjusted under DALI drivers from different brands
In 2021, LTECH released the latest DALI technology. Through near-field communication (NFC), users can quickly write DALI addresses, set fade time and auto-memory and adjust the current level down to 1mA with the mobile app or the NFC writer. To achieve this , users do not need to power on the drivers or use the DALI system, which facilitates the DALI construction and commissioning.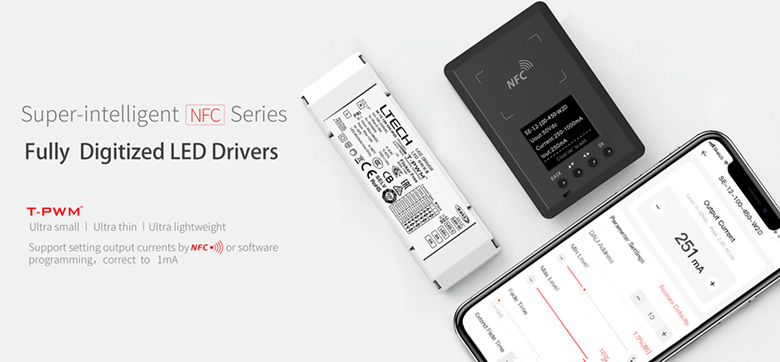 LTECH super intelligent NFC series
LTECH's DALI products strictly comply with the standardized protocol that DALI Alliance released. All DALI drivers we launched are DALI, CCC, UL, FCC, TUV, CE, RCM, ENEC, KC, EAC, BIS,ROSH certified. LTECH has a variety of DALI products, which are made from high-quality materials and provide stable and reliable performance.They have great compatibility and are able to make smooth and soft lighting that are suitable for a wide range of luminaires used in all scenarios.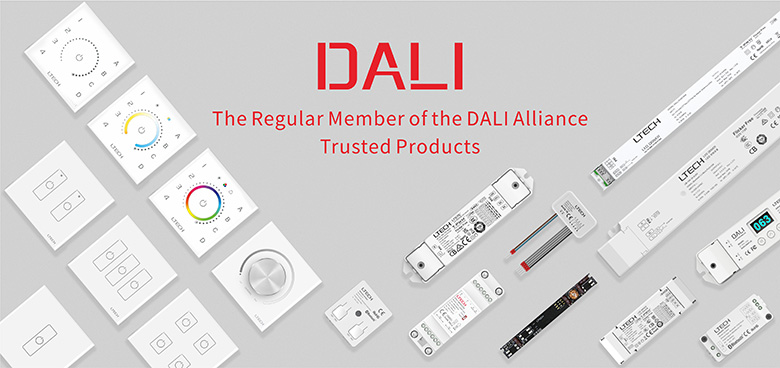 Complete DALI series products from LTECH
Over the past 20 years, LTECH has been a recognized brand worldwide. Our DALI series products are sold in many countries and regions, so LTECH holds a leading market share in Europe and in some key regions of China. The LED lighting market grows rapidly in recent years, and LTECH has become the first choice for many top lighting enterprises.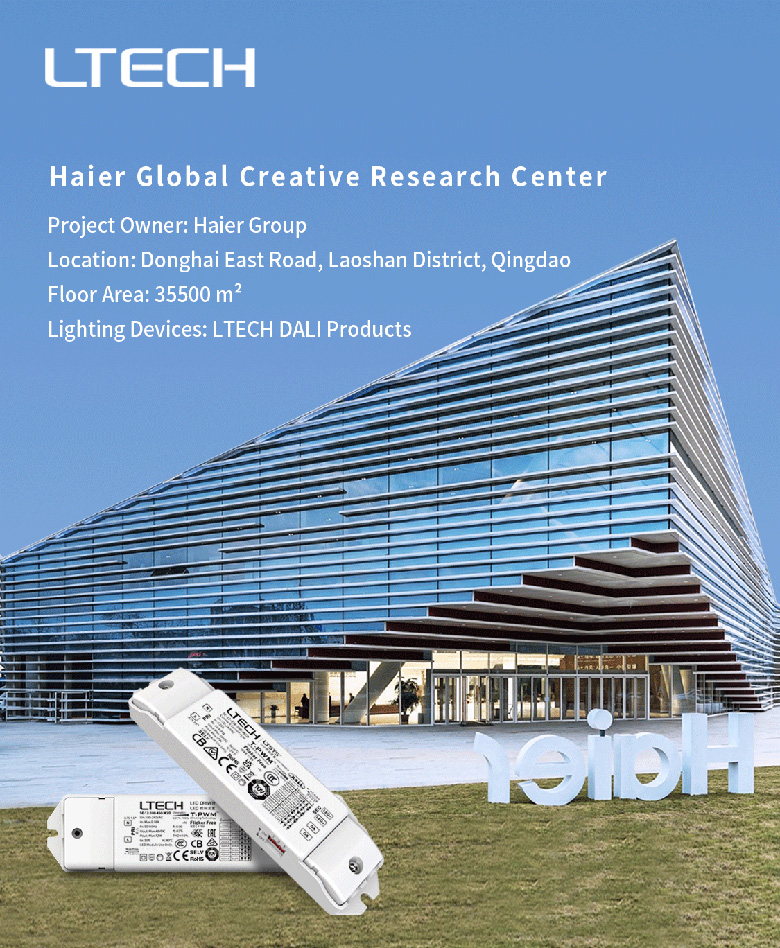 LTECH's representative case : Haier Global Creative Research Center
Zhuhai LTECH Technology Co., LTD. (Stock Code: 832110), founded in 2003, has greatly promoted the development of the field of intelligent LED lighting control in China. Over 20 years, LTECH has been at the forefront of LED lighting control technology in China. It is one of the leading manufacturers of LED lighting control systems in the world. LTECH has provided a large number of competitive, safe and reliable products and solutions for tens of thousands of medium and large size lighting project across the globe, including famous landmark buildings, theme parks, star hotels, office buildings, high-end shopping malls, smart homes, smart offices, and smart hotels.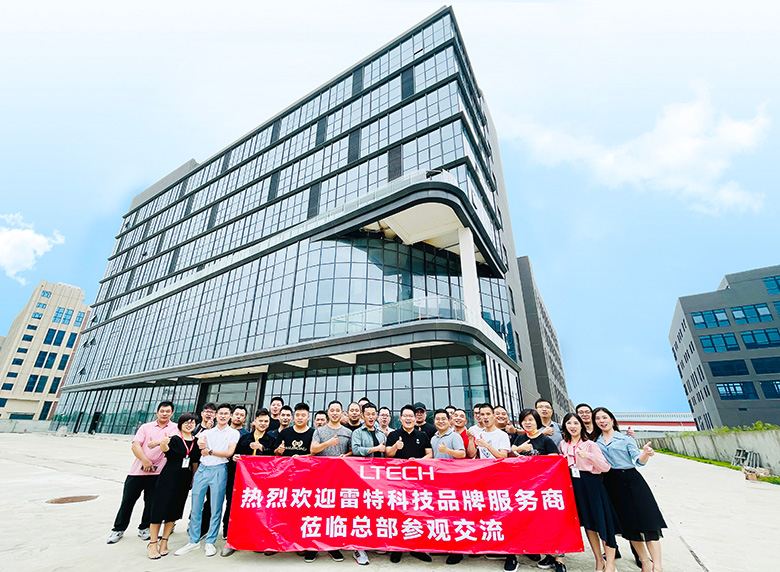 LTECH's new headquarters building
In terms of R&D strength, LTECH has a large-size engineering technology research center for intelligent LED controllers, which has been recognized as a key provincial and municipal technology center.
LTECH will continue to increase investment in technology research and development, improve independent innovation capabilities and provide customers with great intelligent lighting experiences while providing great resources for the lighting industry to promote the development of intelligent lighting.