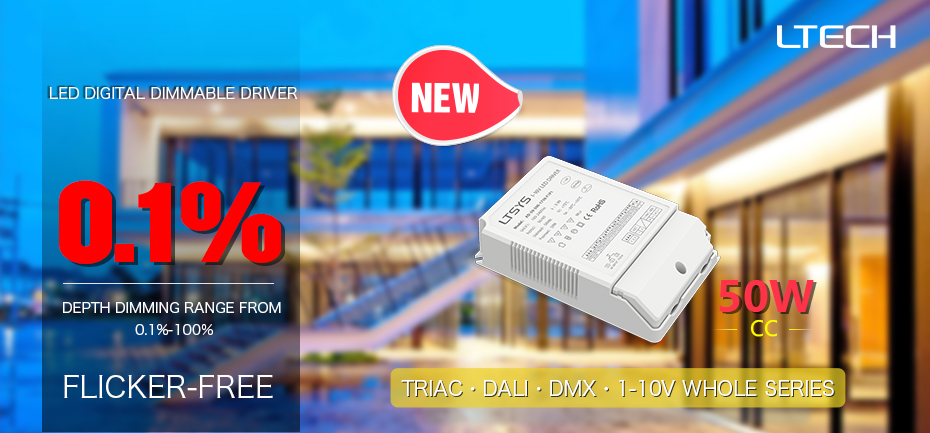 Recently, Zhuhai Ltech Technology Co., Ltd. (Stock Code: 832110) has newly launched 4 kinds of 50W constant dimmable drivers: Triac dimmable driver(TD-50-500-1750-E1P1), 5 in 1 0-10V dimmable driver (AD-50-500-1750-F1P1), DMX512 dimmable driver(DMX-50-500-1750-F1P1), DALI dimmable driver(DALI-50-500-1750-F1P1) and 6 in 1 DALI dimmable driver(DALI-50-500-1750-F1P2).
LTECH latest 50W dimmable driver is made of ABS+PC engineering flame retardant plastic and full protective white shell. The size of the 5 models are unified in L133mm x W 90mm x 30mm. The overall appearance is simple and generous and the silk screen is clearly. The following is the main advantages of this 5 models.
4 outstanding advantage as below:
T-PWM digital signal dimming
All these 5 dimmable drivers adopt to LTECH invented T-PWM digital dimming technology, not like the way of analog modulation current mode, which change LED electrical performance and influence LED's CRI(color rending index) and lifetime.T-PWM digital dimming technology maintains not only the optimal LED's CRI (color rending index) and optimal lifetime,but also achieve the perfect dimming effect.
The overall product adopts to digital circuit design,current are within minimum error, dimming more smoothly.
Depth dimming, flicker-free
5 kinds dimmable drivers are built-in-high-performance MCU,challenge the limit of constant current dimming driver,achieve full depth dimming from 0.1%-100%. Light dimming is natural and delicate to turn bright and dark gradually , close to the traditional incandescent light dimming effect. Not like the normal dimming driver,it will start from more bright light or flash back at the end when turning dark to bright. Combined with the unique standard logarithmic dimming curve,dimming is smooth and flicker-free,the human eye visual feel more comfortable.
Wide Voltage and digital current choice
LTECH latest 50W dimming driver is with input voltage 100-240VAC,output voltage 10-54VDC.Constant current output: 500mA-1750mA, to achieve speedy DIP switch for 8 options of current. Different from the DIP switch directly force current stopping on the market,it's go through the different resistor to equip the multi output current.It will cause current precision error, as well as the low driver consistency. The DIP switch will be oxidized by the large current and effect the current precision, cause the power failure and current less.For LTECH DIP switch, current will not pass by,it only play role in informing MCU procedure to output specified current. Its output is digital to minimize the hardware error.The overall item is highly digitalized to reduce the current difference of influenced by high-low temperature normal driver.With wide voltage and multi current output, the current precision and consistency of LTECH digital driver would be better.
In addition to the 8 conventional current selection , customize current is also supported. LTECH has equipped with a ISET advanced interface for user to select their own current.User can select any current within the power range.
Multiple current selection and wide voltage output make it compatible with a variety of LED lights . They can be used widely and meet the needs of different current and voltage LED Lights from different manufacturers, be able to avoid the matching problem when replace the LED lights , save the purchasing cost and reduce inventory.One of our 50W dimming driver can replace dozens of other manufacturer's similar products on the market.
High PF, High efficiency, Compliance with EMC, safety requirements
Built-in active PFC,PFC: PF>0.99@110V,PF>0.95@230V, efficiency:>85%,THD<10%,current accuracy:±3%.Compliance with EMC&safety certificating requirement like CCC、UL、CE、SAA、GS、CB etc.
All new LTECH 50W dimming drivers are isolated power,matching the Safe Extra Low Voltage standard and CLASS 2 power standard.It's safe and reliable. Full safety protective like short circuit, over temperature, overload, non-load and over-voltage. Automatically recover from trouble shooting, revent unforeseen accidents and help preserve life span of Led light and LED driver.
Other features:
·
All five new drivers support PUSH DIM reset switch dimming interface,can dim the LED lights with any button switch.
·
Triac dimming driver,with built-in high function MCU digital processing program make it possible to have dimming range from 0.1-100%.This has never happened in Triac drivers history before,LTECH rewrites it.
·
With the RDM remote device management protocol, like DALI driver, DMX512 dimming driver is now able to read DMX address from distance, to write the address after installation or reset the address more convenient than before.
·
Five in one 0-10v dimming driver( AD-50-500-1750-F1P1) has two dimming interface: 1-10v and Push Dim. 1-10v interface supports:0-10v、1-10v、10v PWM、adjustable resistor and Push Dim.
·
Six in one Dali dimming driver( DALI-50-500-1750-F1P2) has 3 dimming interface: DALI、1-10V、PUSH DIM. 1-10V interface supports: 0-10V、1-10V、10VPWM、adjustable resistor,DALI and PUSH DIM.It's very powerful and convenient.
Currently these 5 kinds of dimming drivers have been put on the market and sold to all over the world by LTECH distributors. With excellent quality, they have been applied on many Five Star hotel projects and other large projects.Their unique performance has earned very high commend from many engineer corporations and users.
Guangzhou International Lighting Exhibition 2016:
Time: From June 9th to June 12th 2016
Location: Pazhou International Exhibition Center in Guangzhou
Company name: Zhuhai Ltech Technology Co., Ltd.
Booth no.: 12.2 B10