Recently, an arts style hot spring hall Young·SPACE opens in the core area of Lujiazui which is the central business district of Shanghai. In Lujiazui, known as the "Oriental Manhattan",Young·SPACE hot spring hall delivers its unique charm in this bustling city.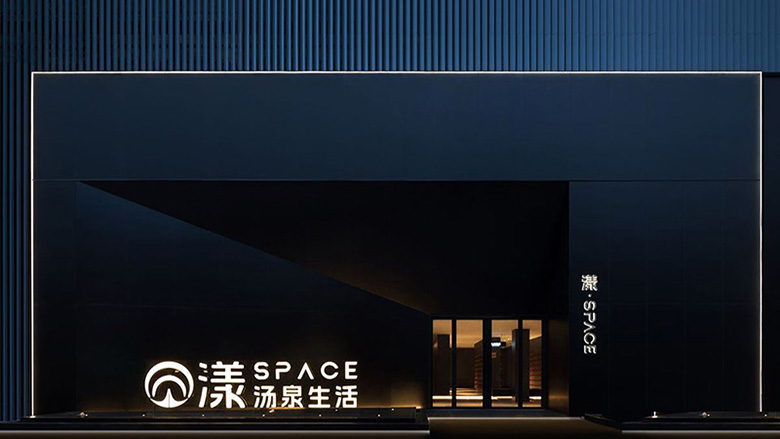 Provide new experience of urban hot spring hall through intelligent control of the entire hall
Young·SPACE was built at the cost of 120 million yuan and enjoys a total business area of 8800 sqm. It adopted LTECH whole house intelligent solution and the entire hall used one-stop smart home products like smart panels, LED module, wireless and wired LED drivers to create and control smart scenes. The scenes in the hot spring hall were all designed based on natural phenomena. All respects of this theme hot spring hall are built through the art. It provides an "indoor paradise" for people in China's Magic City- Shanghai, as well as for people from the whole country and from around the world.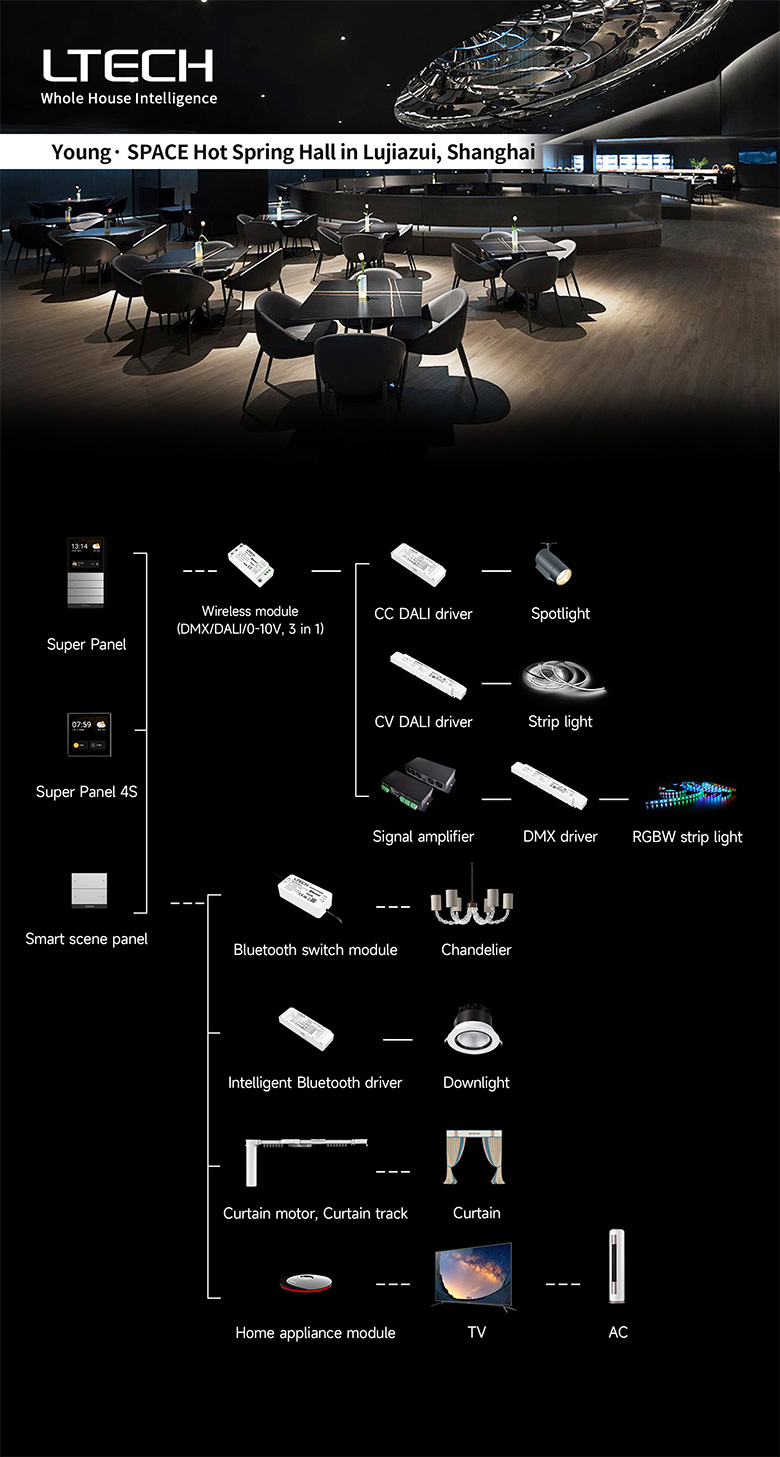 Young·SPACE actively focuses on the consumption concepts and lifestyles of youngsters. It is well aware of their consumption needs so as to create the sort of hot spring hall that integrates leisure activities in urban areas and injects modern art features into its leisure space. Young·SPACE created such a relaxing space for urban young people which allows them to leisurely enjoy the art while meeting the social purpose. LTECH whole house intelligent solution perfectly fits Young·SPACE's demand that provides customer experience with art and leisure combined by the means of creating complete scenes.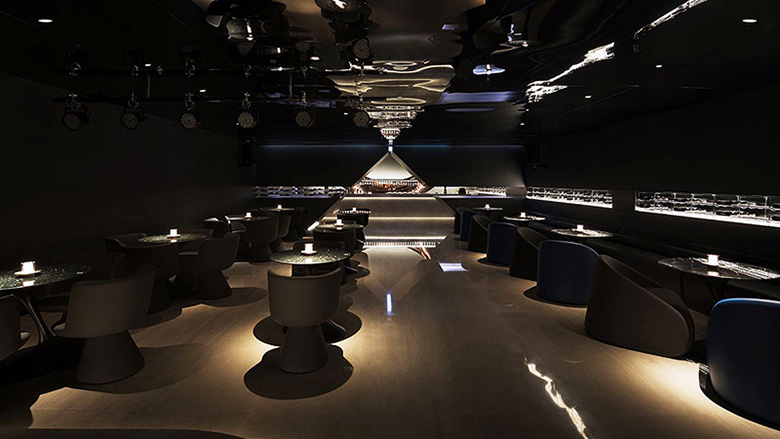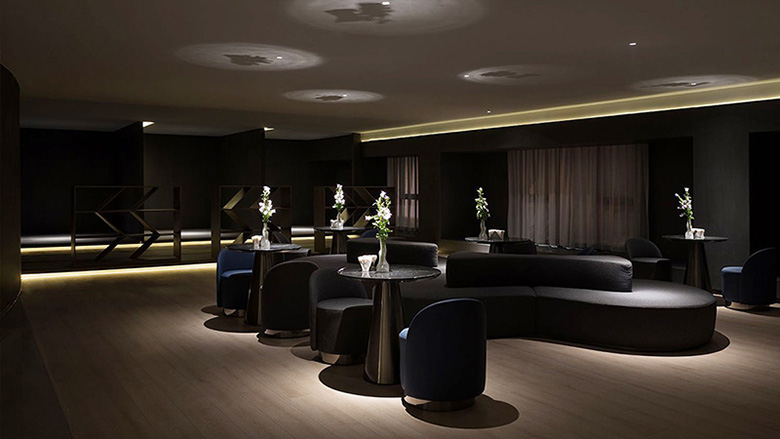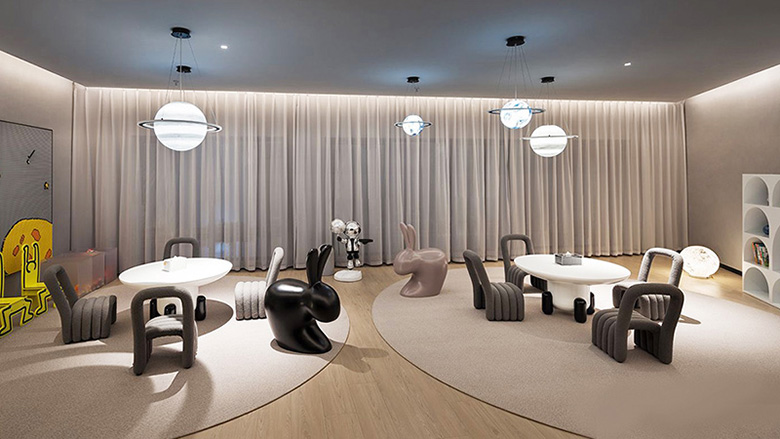 Combine wireless and wired connectivity to easily achieve atmospheres for scenes
The whole house intelligent solution for Young·SPACE is a hybrid connectivity solution that provides both wired and wireless connectivity. Around 100 pieces of LED modules (CG-DAM) were used to achieve the conversion from DALI signal to wireless signal which contain roughly 300 wireless nodes. This solution took advantage of flexibility of wireless connectivity and stability of wired connectivity. LTECH smart panels work in combination of LTECH curtain motors to bring natural light indoors that scenes need. Diverse lighting scenes can also be created for like cool cinema lighting and relaxing home warm spa lighting. The solution lets full scenarios of the whole hall with 8800㎡under control.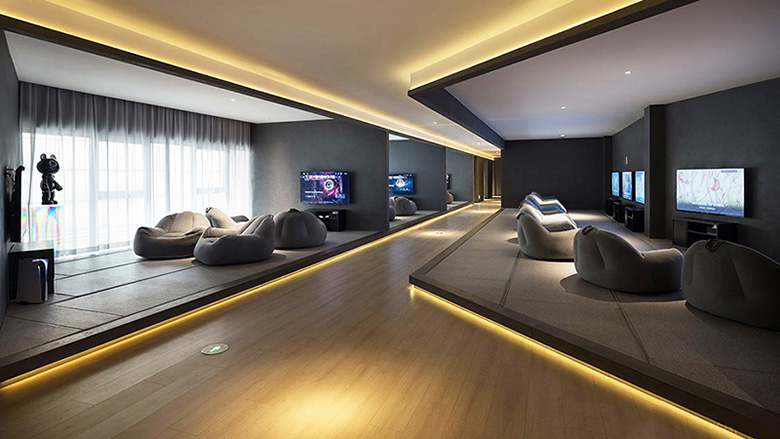 In terms of intelligent lighting technology, LTECH LED products are compatible with four main dimming protocols. They are DALI, DMX, 0-10V, and phase cut dimming. But in order to extend the applications to large space, not limited to homes , LTECH has designed super LED modules (CG-DAM,CG-D) that are compatible with LED drivers from various manufacturers in the lighting industry. So people can achieve complete control of various types of lamps.LTECH CG-DAM supports 0-10V, DALI, and DMX protocols. It well matches with nearly a hundred wired or wireless LED drivers with Bluetooth 5.0SIG Mesh to meet different user needs.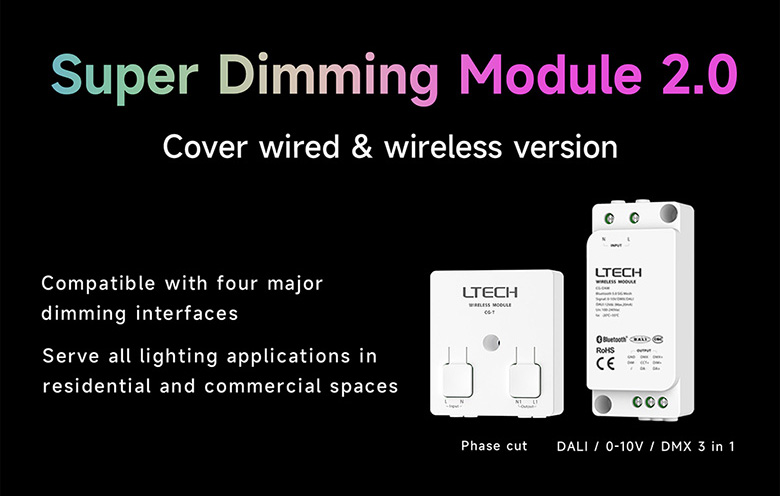 Empowered by intelligent lighting that breaks temporal and spatial boundaries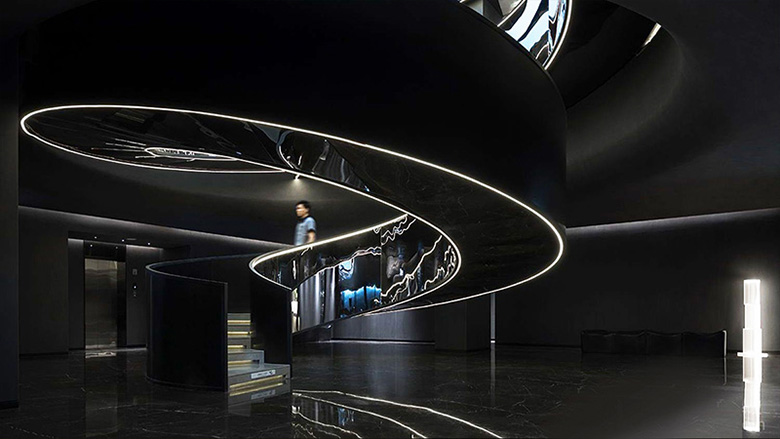 In its spatial structure, Young·SPACE brings spatial scene modes to the experience at all times periods of day.Regarding the scene demands of different time periods ,LTECH whole house intelligent solution and its products can break temporal and spatial boundaries to present people with visual and perceptual effects associating with natural phenomena in the areas of hot springs, saunas, break, entertainment and catering. Under such circumstances, people relax their body and mind and art just come up naturally.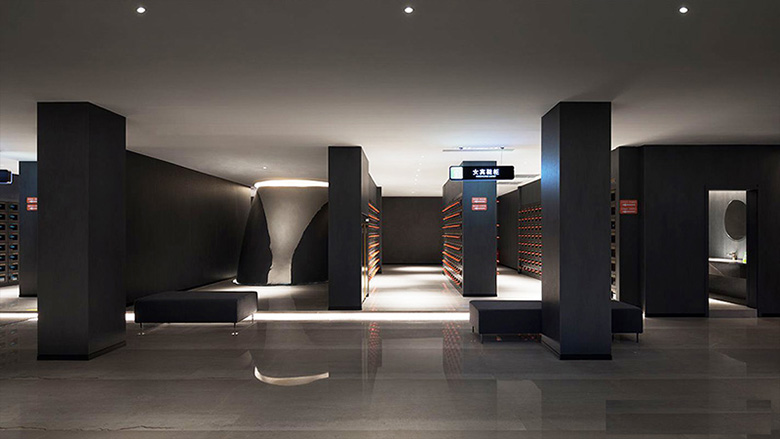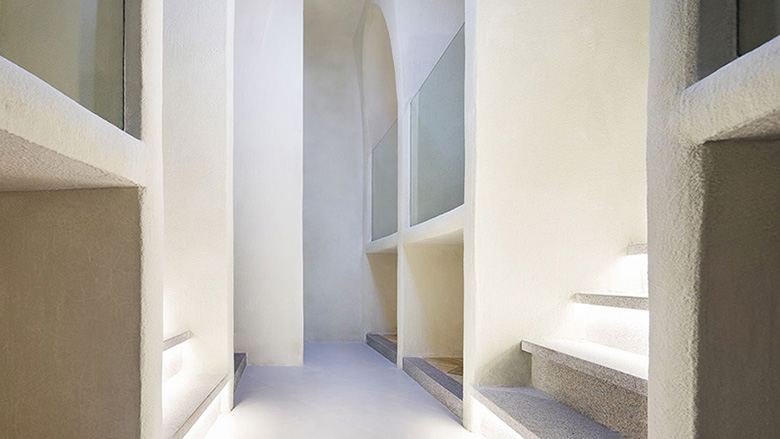 LTECH launched adaptive lighting technology that enables customized circadian lighting and completely circadian lighting to comprehensively achieve healthy, personalized intelligent lighting. LTECH adaptive lighting technology is accessed by using the LTECH whole house intelligent L-Home APP to locate the city where the scene is, and at the same time make lighting sync to actual sunlight changes so as to support the positive human circadian rhythms. Customized circadian lighting is also done by setting up custom brightness and color temperature at the specific times of day and makes it suitable for various environments, such as bathrooms, restaurants, leisure areas, and other different places.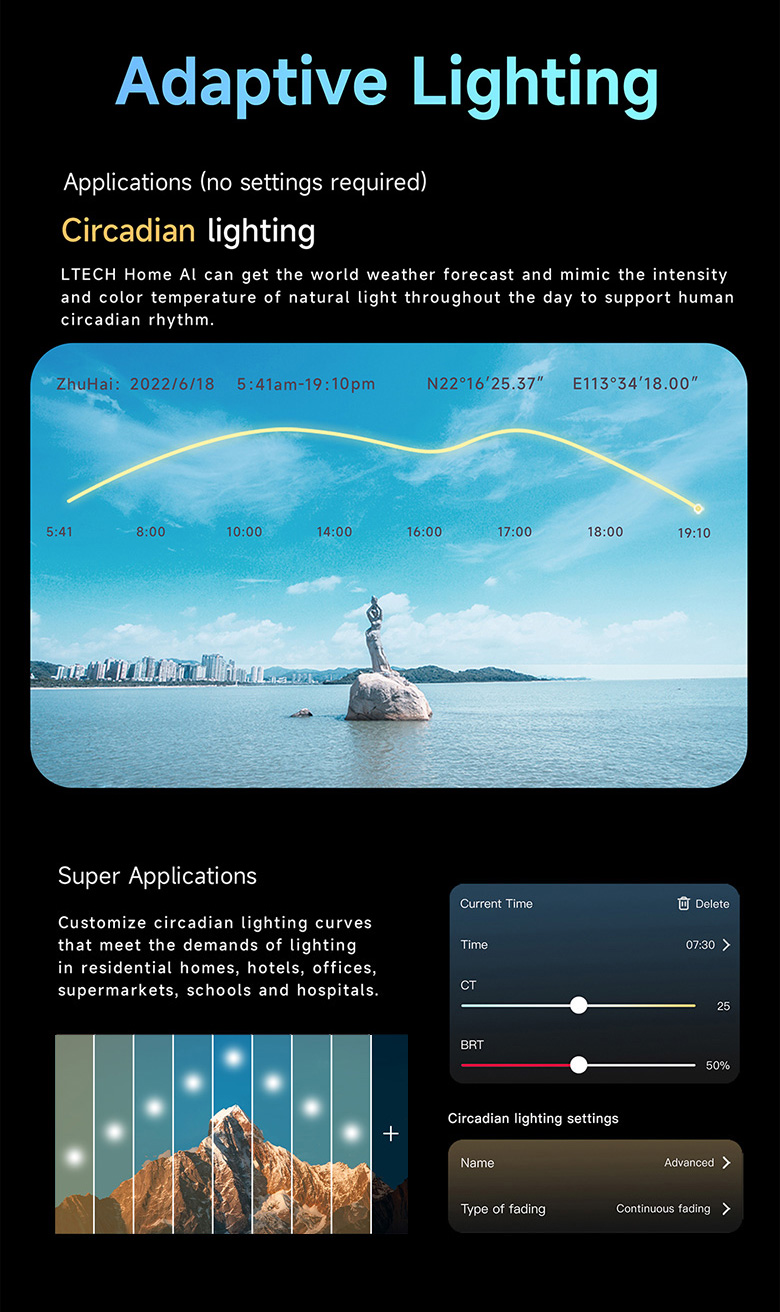 0.01% dimming depth makes it easy to control diversified atmosphere
Embed the sparkling light under your feet
Water tunnel caves appear in the bathhouse
Explore endless possibilities in this space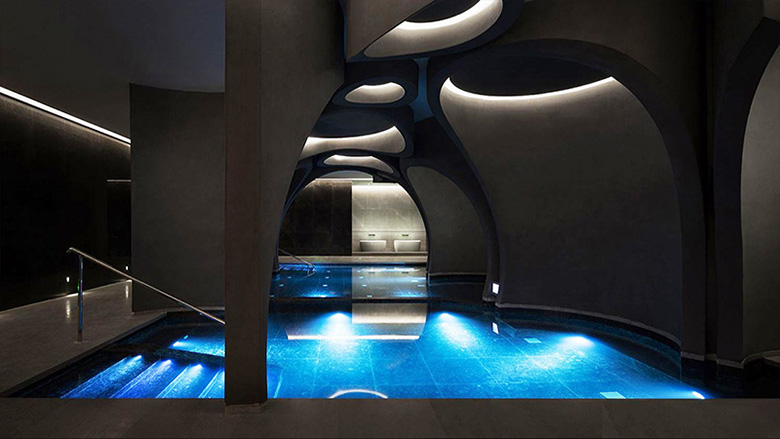 Decorate a bar with colorful and transparent glass
Light up the intoxicating atmosphere and lift the veil of night,
As we raise glasses, we start to become squiffy and graceful ourselves
The tunnel curtain reflects colorful light and shadow,
Integrate science fiction and modern romance
Cross the boundaries of time and space and future interweaving come on stage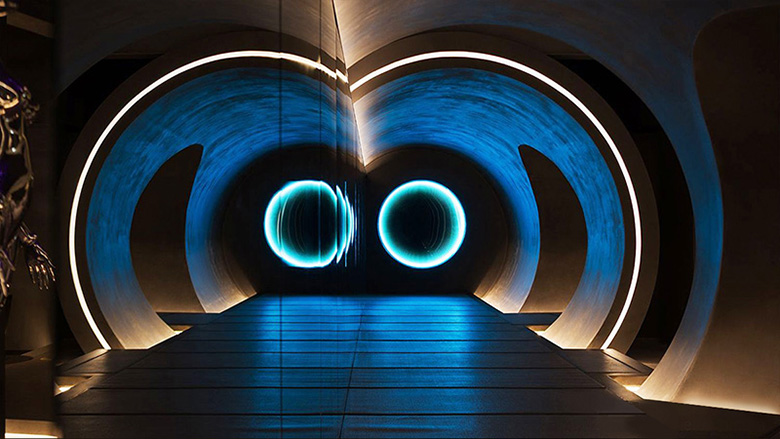 The changes in color temperature and transitions from dark to light contribute to making a wide variety of atmospheres. LTECH's pioneering T-PWM Super Depth Dimming Technology enables 0.01% dimming depth and delivers smooth, delicate dimming. No flicker appears at all dimming levels and lighting complies with the IEEE1789 standard.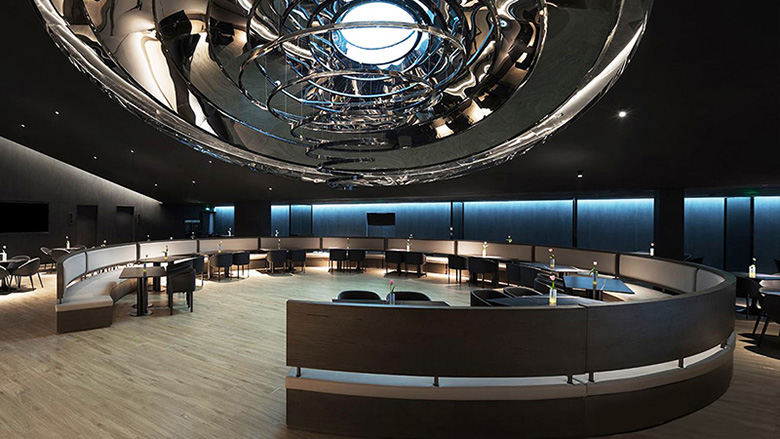 Not only that, LTECH Bluetooth LED driver and Bluetooth tunable white LED drivers allows you to change fame time of lighting, and dimming curves using the mobile L-Home App. Let you experience the intelligence of whole house smart system.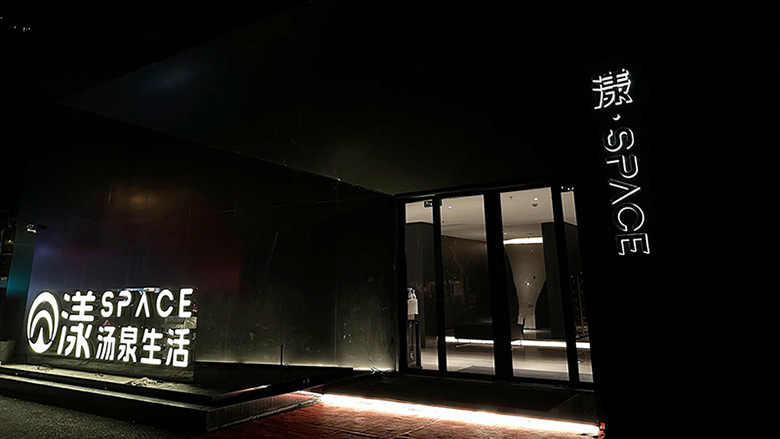 LTECH brings more intelligence to indoor spaces. As a high-tech enterprise focusing on intelligent lighting control, LTECH always insists on taking scientific and technological innovation as the core and constantly brings new technology into the field of intelligent lighting. It has successively developed three product lines- "LED Lighting Control System", " Intelligent LED Driver" and "Smart Home", which meet smart scene requirements for lighting enterprises, commercial space and residential homes. Our products offer integration with various third party control system and so far they can combine with Alibaba, Xiaomi, Baidu, Amazon and Google IoT platform through cloud connections to provide users with one-stop AIoT ecosystem solutions.