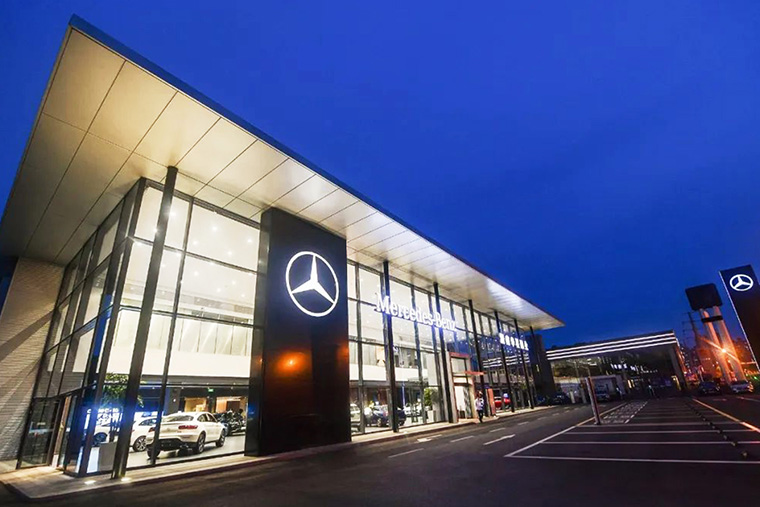 MAR 2020 is a new retail presentation format from Mercedes-Benz implemented across the globe, which includes a combination of spatial design, innovative advisory processes and the introduction of digitalisation in service, ensuring "Best Customer Experience". To meet the standard of MAR 2020 lighting concept that Mercedes has established in all its facilities, LTECH implemented an intelligent lighting solution for Changsha Mercedes-Benz MAR2020 Showroom.
Requirements for showroom lighting
Showrooms have two major requirements for their interior lighting. The first is to provide quality illumination for the space, while the second is to emphasize the products on display and thus enhance the visual experience of showroom visitors. LTECH DALI dimmable & tunable white LED drivers play a crucial role here in Changsha Mercedes-Benz Showroom, which are used to illuminate Mercedes-Benz cars from multiple angles and help them look their best.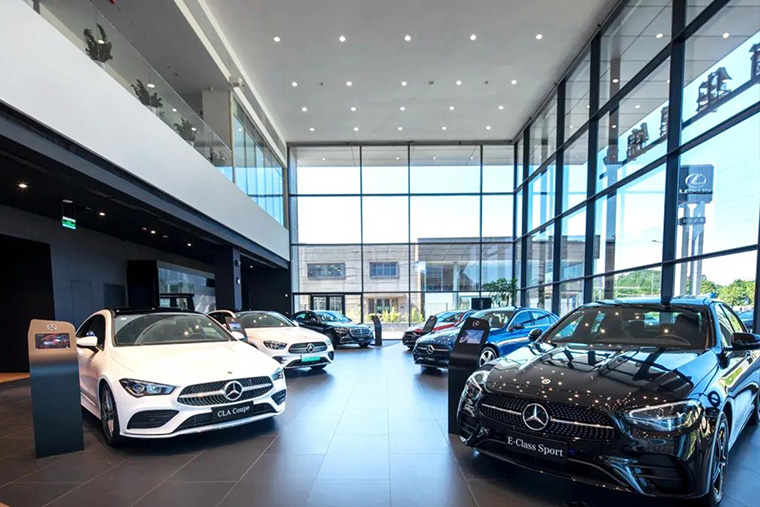 LTECH intelligent DALI LED drivers strictly followed the standards of DALI protocol and all of them passed the certification of the DALI Alliance. We provide an extensive range of DALI products which ensure the compatibility with other control systems. Since different zones perform different functions and demand different lighting, LTECH DALI LED drivers are utilized to produce diversified lighting effects, which meet the defined requirements of MAR2020.
Aesthetics of showroom lighting
The functional zone of Changsha Mercedes-Benz MAR2020 Showroom have undergone a transformation, which has been made digital. The showroom chose dark green fittings to match with suspended dolphin-shape light fixtures that emit blue light, making the showroom look tech-savvy. Using LTECH DALI-2 DT6/DT8 dimmable & tunable white LED drivers, Changsha Mercedes-Benz MAR2020 Showroom is easily able to ensure that the colorful lighting effects meet its standard and enhance the aesthetics for the showroom.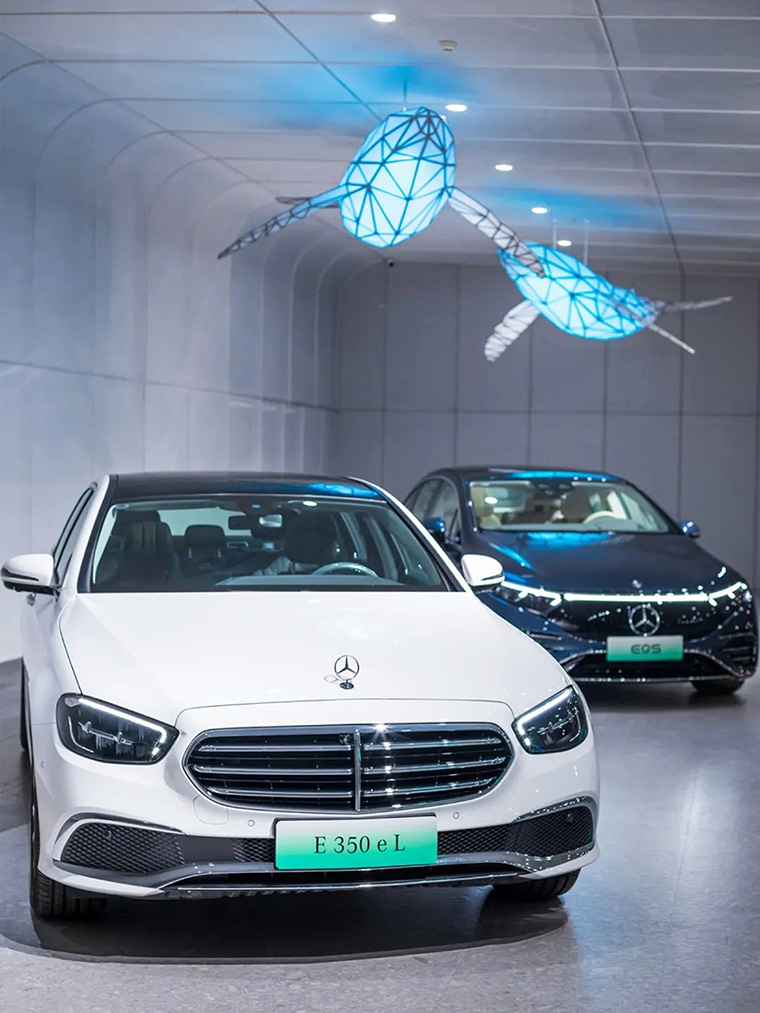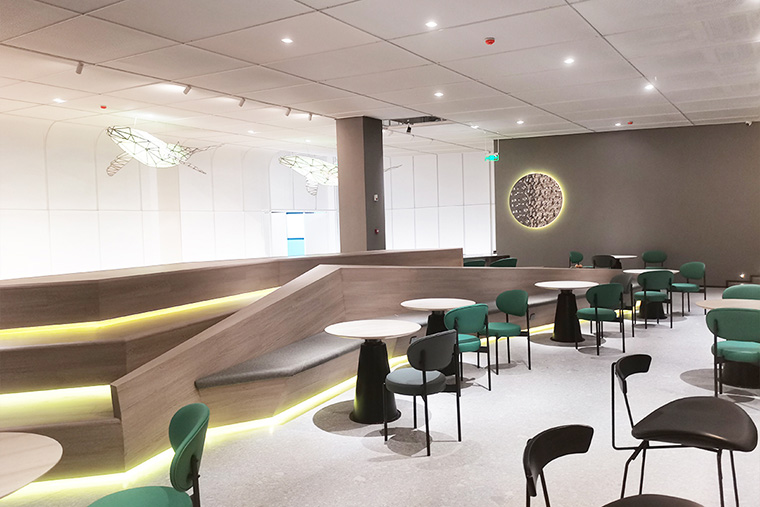 In the display area, accent lighting is used to illuminate Mercedes-Benz cars with soft light, highlighting car texture and making them look amazing; while in the negotiation area, bright light is adopted to create a communication friendly environment for customers and Mercedes-Benz staff.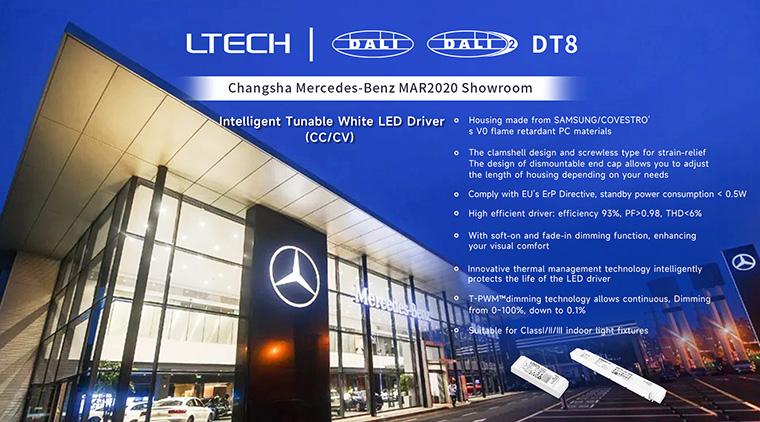 LTECH intelligent DALI drivers have built-in T-PWM Super Depth Dimming Technology that LTECH pioneered. The dimming technology can dim lights down to 0.01% and produce smooth, flicker-free dimming at all dimming levels. The provided dimming complies with the IEEE1789 standard and reaches high frequency exemption level. It automatically adapts to different frame rates, apertures and focal length of phones cameras, professional cameras or other shooting devices. At the same time, the dimming meats the requirements like visual comfort, taking photos without strobe and reaching the flicker standard of stroboscope.
Lighting in showroom experience area
On the 3rd floor of the showroom, the luxury experience area provides a calm and comfortable lighting environment for customers. To create colored lighting effects in it, LTECH DMX decoders play a big part, which enable 0-100% dimming range and various changing effects. In addition, the DMX decoders can work with DIM, CT, RGB, RGBW, RGBCW light fixtures to create different scenarios and lighting atmospheres.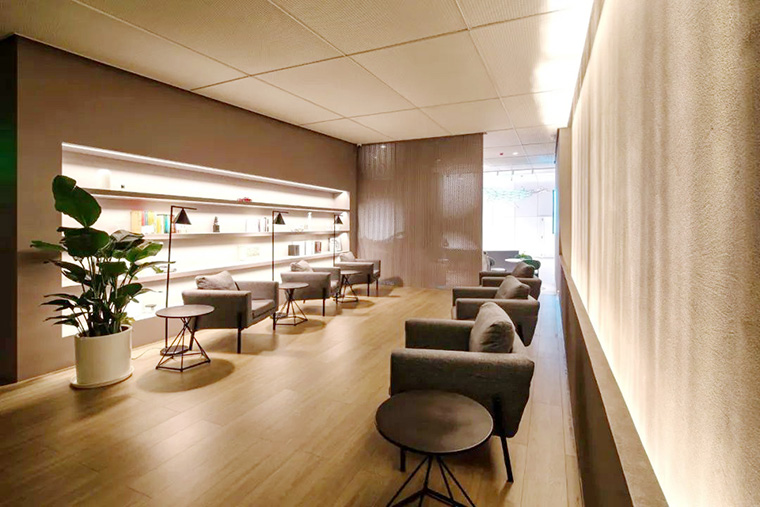 In the early stage of LED development, LTECH introduced DMX technology to the LED industry in China and took the lead in developing our first DMX512 decoder, which perfectly works with light fixtures under the DMX512 protocol. It helps promote DMX technology development and growth in China.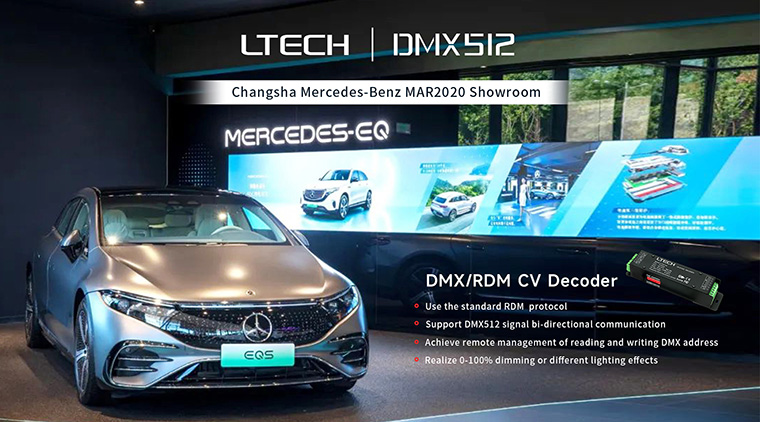 Even in commercial spaces, the demands of lighting are completely different due to different interior design styles. With nearly 20 years of experience in intelligent lighting, LTECH has provided a large number of competitive, safe and reliable products and solutions for tens of thousands of lighting projects, covering landmark buildings, theme parks, shopping malls, smart homes, smart offices, and smart hotels. We implemented the state-of-the-art solutions to unify the aesthetics and function of lighting for different types of modern spaces.