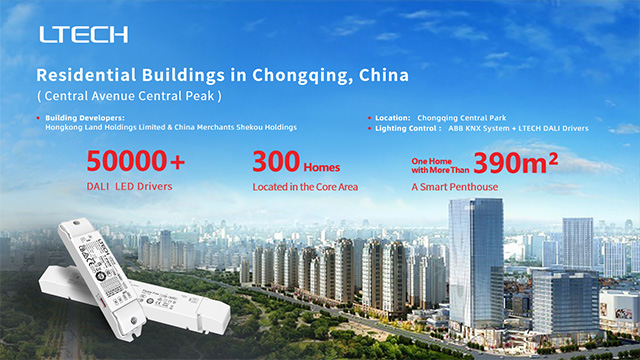 Chongqing Central Park is the fourth city Central Park globally. It is also one of the largest open parks in China.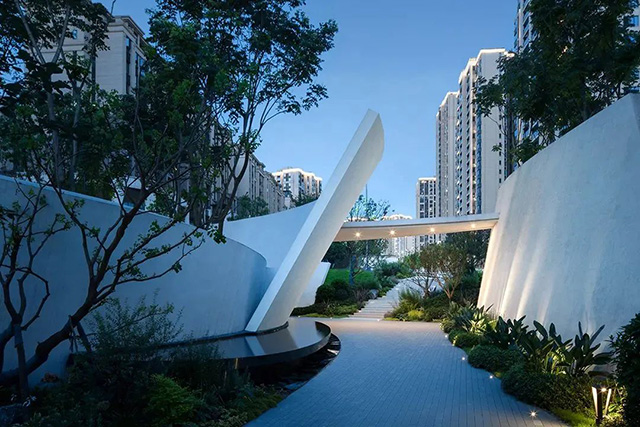 Located near the Chongqing Central Park, the residential buildings (Chongqing Central Avenue Central Peak) definitely attract the public attention due to the favorable location. In this residential project, more than 50000 LTECH DALI drivers were applied. LTECH has reached a milestone as it achieved the highest number of DALI drivers that were used in a single residential project.
1
Work with the ABB KNX system
Since this residential project was launched in 2018, LTECH has sent product samples multiple times for system compatibility testing. After completing several rounds of bidding and the final inspection of intelligence implementation for four sample houses, LTECH was selected as a top choice for this project. LTECH successfully implemented whole house intelligence and smart lighting solution by using 43,800 constant current DALI drivers and 8,500 constant voltage DALI drivers and working with the ABB KNX system.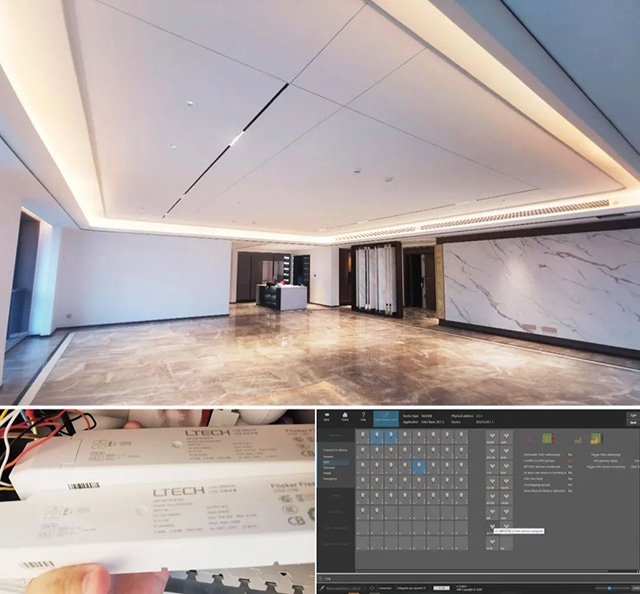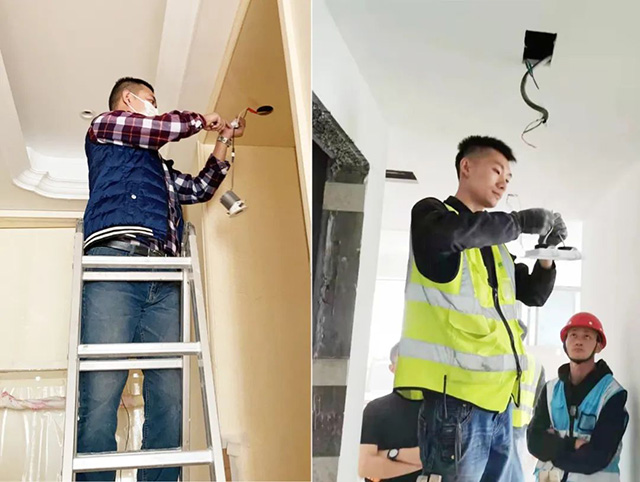 Benefiting from several advantages, LTECH finally combated the competition and won the project. First, thanks to our advanced DALI technologies. LTECH is a member of the DALI Alliance China Focus Group (DALI-CFG), which can participate in the development of test sequences and new specifications; Second, due to the strong stability, LTECH products have great compatibility with all control systems in this field; Third, LTECH is one of the leading manufactures of LED lighting control systems in the world. With 20 years of experience in this industry, our products have been proven in 20000 projects across the globe; Fourth, LTECH provides a great service system. We set offices around the world and have experienced technical personnel to better serve the implementation of projects; Fifth, we hold the same view with the project owner on the concept of creating a healthy and comfortable smart home. What's more, with our powerful product performance, we able to solve the difficulties arising in the solution implementation.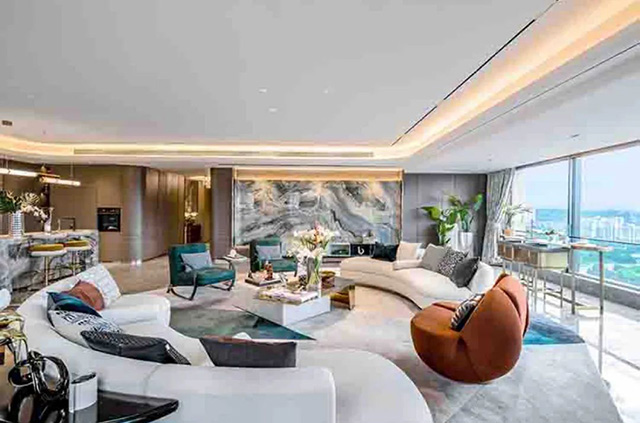 2
Define new dimming standards
LTECH LED drivers use the T-PWM super depth dimming technology, which can dim lights down to 0.01% and deliver smooth and continuous dimming across the whole dimming range. Also ,the dimming is flicker-free and has reached the high frequency exemption level that can meet the demands of lighting in different scenarios.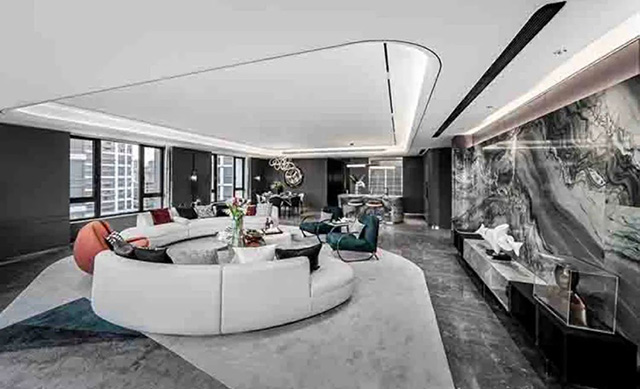 LTECH's T-PWM super depth dimming technology has solved the shortcomings of several common dimming technologies in the industry, including CCR simulation, PWM, and CCR+PWM. Moreover, we defined the industry's dimming standards with four new standards, which are flicker-free, smooth, precise and depth dimming.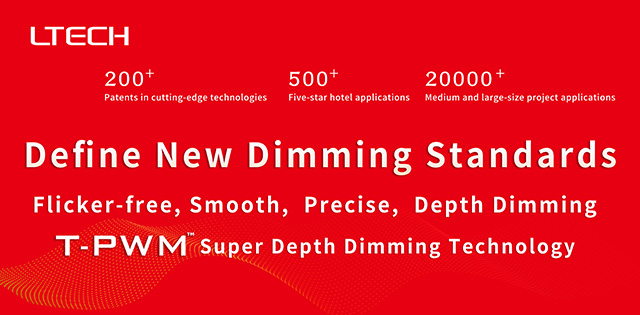 3
Reduce installation and commissioning costs
LTECH DALI drivers allow current settings via NFC or other software. Users can change the current level with just one tap, and replace the labor-intensive current setting method of traditional LED drivers, which greatly reduces time and costs . The current of NFC LED drivers can be set down to 1mA. Without powering them on ,we can complete the quick current and parameters settings of mass LED drivers. Benefiting from this, we can greatly reduce installation and commissioning costs.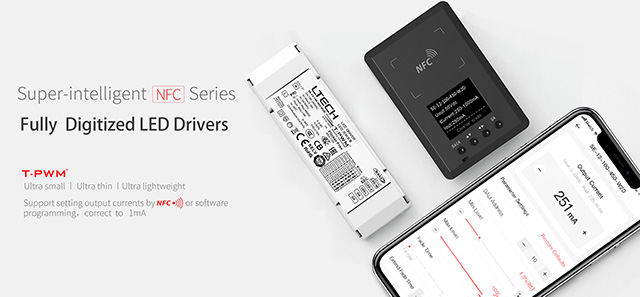 Stay committed to developing quality products
With the improvement of science and technology and people's living standards, intelligent lighting have been increasingly used in our lives. Using our strong innovation capacities and high quality products, we accomplished this super luxurious residential project (Chongqing Central Avenue Central Peak).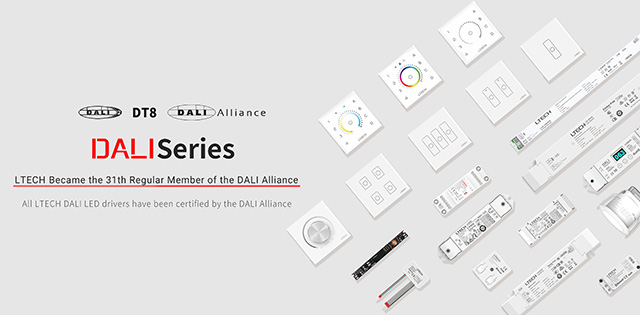 As the 31th Regular member of the DALI Alliance, LTECH will continue to combine our own technologies and products to provide our partners with comprehensive services and support.